Pancakes are amazing, and mixes are just even better, so here are the best vegan pancake mixes money can buy.
Most of these can also be made into waffles. So this is actually the best vegan waffle mixes, as well as pancakes. -And they are amazing for both.
In fact, one of these vegan pancakes is award-winning. That just goes to show that vegan pancakes are just as good as the regular, if not better.
In this list, you will also find mixes that are high in fiber, protein, and Iron. Meaning these are excellent alternatives to the regular. After all, why not add a little more nutrition into our guilty pleasures.
1. Birch Benders – Organic Pancake and Waffle Mix
This particular vegan pancake mix actually has a quite strong backstory. The reason they are so popular among vegans is the taste. So what makes these pancakes different?
The company conducted multiple blind taste tests on their flours. So you know the results are reliable, and I can say for myself that these are amazing. Besides, it's an organic product with only the best ingredients.
2. Bob's Red Mill – 7 Grain Pancake
You most definitely know about Bob's Red Mill but did you know they have vegan pancake mixes? Well, they do, and it's quite good.
You can use it for both waffles and pancakes, as with most pancake mixes. Although Bob's Red Mill pancake mix is especially high in fiber. It's a whole grain pancake mix, but it still tastes just as good as the regular kinds.
3. Madhava – Flapjacks Pancakes Mix
What makes this vegan pancake mix so different is the sugar. They pride themselves on using sustainable coconut sugar, rather than the regular white sugar. That's actually quite nice, as it means less processed foods.
As you know, white sugar is highly refined. Thus, it has an adverse impact on your blood sugar levels, as it causes spikes. Less processed coconut sugar, on the other hand, is much better in this regard.
4. Simple Mills – Almond Flour Pancake Mix
Simple Mills, even the name screams quality to me. Simple ingredients are always preferred, especially when you want to avoid animal products. -The same is true for this vegan pancake mix.
It's made with almond flour as opposed to traditional wheat flour. It adds a subtle yet delicious taste that I personally like. -The almond flour also makes it naturally gluten-free, which you might enjoy.
5. gfJules – Pancake and Waffle Mix
This pancake mix not just good. It's an award-winning vegan pancake mix. It won an award for the best gluten-free pancakes in 2017, which is quite impressive. Meaning you can be sure this is an amazing vegan pancake mix.
It's definitely a pancake mix any vegan need to try sometime. So try it now, or add it to your bucket list for later.
6. Enjoy Life – Gluten-free Pancake Mix
A great thing about this one is that it's entirely gluten-free. I know that many of you opt for the vegan, gluten-free diet, so these are just for you.
Enjoy Life's pancake mix also has added plant-based proteins. Meaning you can actually up your protein intake a bit by choosing this. What's not to love about a little extra protein? -Especially in otherwise delicious pancakes.
7. Castle Kitchen – Plain Jane Vanilla Mix
Plain pancakes are amazing, but sometimes you want a little extra. In that case, the gluten-free vanilla pancakes from Castle Kitchen might be what you want.
They are entirely vegan and a high source of both fiber and Iron. Especially the Iron is excellent as it's a mineral many vegans lack. -Simply add some water, and you are ready to go with this vegan vanilla pancake mix.
Also Check Out: My 24 Favorite Vegan Chips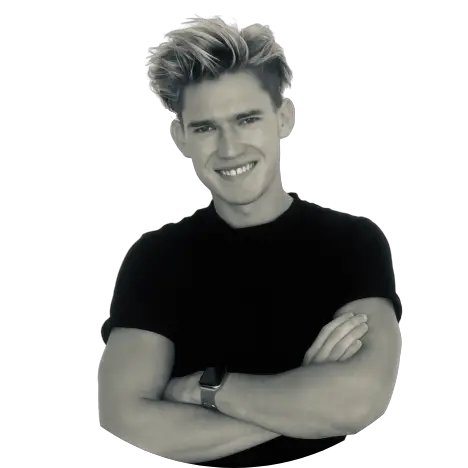 Hey, I'm Gus! I have been vegan for quite some years now, and have collected a lot of knowledge about the subject in this time. My goal with this blog is to spread the vegan message and make it easy to know exactly what's vegan and what's not.