I love chips, but it's sometimes hard to find vegan chips with all those sketchy ingredients. So I decided to buy and taste test 24 different vegan chips.
Anyone who knows me will know this. I'm a sucker for chips, also way before I became a vegan. Luckily for me and others like me, there are plenty of vegan chips in many different flavors. Variety in flavors is what makes chips so amazing in my opinion. Because of that, I always try out new chip flavors and brands. That's why I decided to make this list of the best vegan chips out there.
Many of these are vegan chips I eat regularly while some of the others were taste-tested exclusively for this list. So I'm not necessarily a big fan of all these chips. Although it's chips and most chips are pretty good, some are just better than others. I also wanted to get a lot of different vegan flavors to make this list a bit more interesting. That was an awesome experience as I love wild and different flavors in my vegan chips.
All of these chips are 100% vegan. I have carefully examined all of the ingredients to make sure that no animal products are present. So I can guarantee that all of these are vegan. Most other lists of vegan chips on the internet are actually not 100% vegan. A lot of them are only vegetarian, so this is the ultimate list for real vegans who actually believe in the lifestyle!
---
24 Best Vegan Chips That Will Blow You Away
1. Vegan Rob's Supergrain Chips: Wild Rice
Vegan Rob's is a long time favorite. It's always good to deal with excursively vegan companies, even though it's not always possible. Although this is one of them and it's fantastic. These vegan chips are made with brown rice and salted. The salt flavor is much like all other salt chips, but the brown rice makes them a little different. In a good way.
---
2. Pringles: BBQ
I'm always excited to see vegan chips with BBQ flavor. It's quite rare since most of them use natural flavors with animal enzymes. These Pringles don't, and the taste is fantastic, just like most other Pringles. The BBQ Pringles have a special place in my heart since it's an authenticate BBQ flavor, that's vegan. Although some vegans might be reluctant against artificial meat flavors, I'm not one of them. Maybe you are not either.
---
3. Beanfields Bean Chips
Nachos made from beans! Much higher in fiber and proteins than other chips brands. However, it's not gonna make a big difference since you aren't gonna eat that many. We probably shouldn't even eat them at all, but why not get the healthier choice with the same great taste. Nevertheless, a delicious nachos, in my opinion.
---
4. Plant Snacks: Cheddar
Going vegan doesn't mean you have to get rid of your favorite flavors. Most of us have been meat-eaters longer than vegans. Thus, many start to crave the familiar flavors of cheese after going vegan. Luckily, that's no longer an issue with the rise of artificial vegan cheese flavors. A great example of this is the Plant Snacks Cheddar chips. It's 100% vegan despite its very authentic cheddar taste. You will most likely not taste a difference from real cheddar chips.
---
5. TERRA Original Chips: Sea Salt
I have tried many vegan chips that are made from other than potatoes. Traditional potato chips are generally my favorite, although this is special. These vegan chips are made from many different roots, such as; parsnip, sweet potato, yuca, and taros. I have to say that these roots are a fantastic alternative to traditional potato chips. Mainly because they offer a variety of different flavor profiles, throughout the bag. It's seasoned with salt, but every single kind of chip has a unique taste. Definitely in the top 10 of the best vegan chips!
---
6. The Daily Crave Veggie Chips
First of all, the bag is very cool. It looks like a newspaper and just has a very organic feel, but what about the chips? Sadly, I don't think these vegan chips are that amazing. The taste is sort of dull, although you might like that about them.
---
7. The Better Chip: Spinach & Kale
Spinach and kale are an amazing combination. Not sure if it's the seasoning or the ingredients, but the taste is surprisingly good. Yes, I was a bit skeptical. Sometimes brands like this focus more on branding than taste. However, this is quite good in both taste and texture -and a healthy alternative.
---
8. Tostitos Oven Baked Tortilla Chips
Baked chips are always a good choice if you want to maintain weight, or shred a few pounds. Although, it's not only about the calorie content. Baked chips are actually quite delicious once in a while. It's usually also less heavy than the regular. These are made by Tostitos whom you might know. In case you do, you know they are good. This particular kind (Scoops) also enables you to pack it with some vegan salsa. Great for all the salsa lovers out there, I included.
---
9. Lay's Classic Potato Chips
Not everybody knows this, but many of Lay's chips are vegan! The same goes for the ultimate chips classic in the US. Maybe even the world. It's completely vegan, but I don't think you need much input on this, as you have definitely tried it before.
---
10. Off The Eaten Path Chickpea Crisps with Rice
Chickpea chips? Yes, it's a thing, and it's great. Just know that it's much different in both texture and flavor than regular potato chips. That's not a bad thing, though. They taste great, and the feel is good, although a little different. They are somewhat similar to rice cakes. Hungry for rice cakes now? Take a look at this list of my favorite Vegan Rice Cakes.
---
11. Simply7 Lentil Chips
These are an excellent choice if you like spicy chips. Made from lentils and seasoned with jalapenos. The lentils mean they have a puffy texture, which I'm not crazy about. However, the taste of jalapenos is amazing, so they are still very high on my list.
---
12. Vegan Rob's Supergrain Chips: Asparagus
Yet another one from Vegan Rob's. A very natural choice in general, and they also have some exciting flavors. These are made from asparagus, which I have never seen before. So I was a little unsure about this flavor. Then again I like something different, so it was an obvious choice. -And I was not disappointing. After all, asparagus is delicious, and the same is true of asparagus chips.
---
13. Kettle Himalayan Salt with 100% Avocado Oil
Avocados are more popular than ever, and Kettle knows this. So they made chips cooked in avocado oil, and seasoned with Himalayan salt. The avocado doesn't make that big of a difference, in my opinion. It's very similar in taste. Although it's a bit different and also in texture. I certainly enjoyed them.
---
14. SimplyProtein Chips: Barbecue
We all need a snack once in a while, and why not choose the healthy option? SimplyProtein has vegan barbecue chips that are extraordinarily high in protein. So this is an excellent choice if you want some vegan chips without the feeling of guilt afterward. (A feeling I'm very familiar to)
---
15. Beanfields Bean Chips: Jalapeno Nachos
Jalapeno Nachos is the perfect combination. Who doesn't love spicy nachos, once in a while? I do, and it can be challenging to find, as a vegan. These are certain to satisfy your spicy nachos cravings!
---
16. Beanitos Hint of Lime Bean Chips
Lime on chips works surprisingly well. I'm not a huge fan of it, but I was surprised that I didn't hate it. Definitely, give these a try, it might be just your thing if you like acidic foods in general.
---
17. Beanitos Pinto Bean Chips: Sea Salt
Very straightforward chips. They taste very similar to other salt chips, although a little different. It feels more like eating food than chips does. I sort of like that, but I'll still say regular vegan potato chips are better.
---
18. PopCorners Kettle Corn Snack
Popcorners chips made from… Popcorn! They are entirely vegan and made using straightforward ingredients. A great choice for the vegan who loves popcorn. Would you rather have some regular popcorn? Take a look at my list of Vegan Popcorn Brands to satisfy your cravings.
---
19. Banana Joe's BBQ Flavored Banana Chips
I love traditional banana chips, but these are a little different. Regular banana chips are thick and hard, while these are much more like regular chips. Thin, crunchy, and many different flavors. Banana chips don't necessarily need crazy flavors, but it works very well on Banana Joe chips.
---
20. Rhythm Superfoods Kale Chips
Apparently, kale chips are not only healthy but also surprisingly delicious. Both the texture and taste is incredible, considering it's made of kale. It doesn't feel at all like you are eating one of the healthiest vegetables while eating these chips. Even though it tastes very different from potato chips, it's only in a good way. Although real potato chips are still the winner, in my opinion.
---
21. Rhythm Superfoods Beet Chips
The Beet chips from Rhythm are not surprisingly a little dull. Although, that's what you can expect beet chips named "Naked." They have a natural taste of beet, which I don't hate. It's simply not anything special to me. Nevertheless, you might enjoy the pure natural flavor of beets. Definitely, a great choice if that's the case for you.
---
22. Ruffles: Original Potato Chips
This might surprise you, but Ruffles Original are vegan. In fact, many simple flavors of traditional chips brands are. Nevertheless, they have a crunchy texture and are wildly available all over the world.
---
23. Pringles Potato Crisps Chips, Original Flavored
This list wouldn't be complete without Pringles Original. It's an absolute chip classic and has been for a long time. In spite of that, it's not the most exciting flavor at all. In truth a rather simple taste, but still an all-time classic with a familiar flavor loved by many. While it's not my favorite it's still an awesome salted vegan chip -and it's a wildly available 100% vegan chip.
---
24. Kettle Unsalted Potato Chips
Some of you might hate me for this… But I kind of enjoy these unsalted Kettle chips. It's a nice change of pace to get something that's so natural. Even for me, who usually love wild flavors. It's most likely not gonna blow you away, but they are pretty good. Just don't set your hopes too high for this one.
Also Check Out My Favorite Vegan Popcorn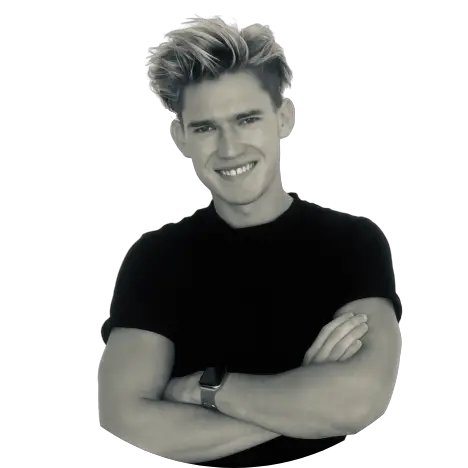 Hey, I'm Gus! I have been vegan for quite some years now, and have collected a lot of knowledge about the subject in this time. My goal with this blog is to spread the vegan message and make it easy to know exactly what's vegan and what's not.