If you're looking to tantalize your taste buds with a combination of sweet and savory flavors, Vegan Teriyaki Sticks are the answer! These delightful tofu skewers are marinated in a luscious teriyaki sauce and grilled to perfection. Bursting with umami and rich in protein, these plant-based delights are perfect for any occasion, whether it's a family dinner or a barbecue with friends. Let's dive into the recipe and explore the irresistible taste of these Vegan Teriyaki Sticks!
Is teriyaki sauce vegan?
Traditional teriyaki sauce is typically not vegan as it commonly contains ingredients like soy sauce, which may have added fish or seafood-based components. Additionally, some commercial teriyaki sauces may contain honey as a sweetener, which is not considered vegan.
However, it is possible to find or make vegan-friendly teriyaki sauce by using suitable substitutions. Look for or prepare teriyaki sauce that uses plant-based soy sauce or tamari (which is a gluten-free version of soy sauce) without fish or seafood additives. Also, use a vegan-friendly sweetener such as brown sugar, coconut sugar, or agave syrup instead of honey.
When in doubt, always check the label or ingredients list of store-bought teriyaki sauce to ensure it is vegan-friendly. Or make your own!
What tofu for Tofu Skewers?
For Tofu Skewers, it is best to use firm or extra-firm tofu. These tofu varieties have a higher protein content and a firmer texture, which makes them ideal for grilling or skewering.
Firm and extra-firm tofu have lower water content compared to softer tofu types, such as silken tofu. This lower water content allows the tofu to hold its shape better during grilling and prevents it from becoming too mushy or falling apart on the skewers.
Before using the tofu, it's a good idea to press it to remove excess water. To do this, wrap the block of tofu in paper towels or a clean kitchen towel and place a weight on top (such as a heavy pan or plate) for about 15-20 minutes. Pressing the tofu helps improve its texture and allows it to better absorb the flavors of the marinade or sauce used in the skewers.
So, opt for firm or extra-firm tofu when making Tofu Skewers for the best results.
How long should I marinate the tofu?
For the best flavor, it is recommended to marinate the tofu for at least 15-20 minutes. However, marinating it for a longer period can enhance the flavor even more. The tofu can be marinated for up to 1 to 2 hours, depending on your preference and schedule.
Marinating the tofu allows it to absorb the delicious teriyaki flavors, making it more flavorful and enjoyable when grilled. The longer it marinates, the more the tofu will soak in the sweet and savory teriyaki sauce, resulting in a tastier and well-seasoned tofu skewer.
Can I freeze the marinated tofu for later use?
Yes, you can freeze marinated tofu for later use. Freezing marinated tofu is a convenient way to have pre-seasoned tofu ready to go whenever you need it.
Marinated tofu can be frozen for up to 3 months. When you're ready to use the tofu, simply thaw it in the refrigerator overnight or at room temperature for a few hours. Once thawed, the tofu will be ready for grilling, stir-frying, or any other cooking method you prefer.
Keep in mind that the texture of the tofu may change slightly after freezing and thawing. The tofu may become slightly firmer or denser, but it will still be flavorful and delicious. Enjoy the convenience of having marinated tofu on hand for quick and easy meals!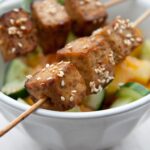 Vegan Teriyaki Sticks (Tofu Skewers)
Indulge in the mouthwatering flavors of Vegan Teriyaki Tofu Skewers, a delightful combination of sweet and savory tastes. These protein-rich skewers are made with marinated tofu, glazed with a luscious teriyaki sauce, and grilled to perfection. Whether you're hosting a barbecue or looking for a quick and delicious meal, these teriyaki sticks are sure to impress!
Ingredients  
For the Teriyaki Sauce:
1/2

cup

soy sauce

or tamari for a gluten-free option

1/4

cup

water

1/4

cup

brown sugar

or coconut sugar for a healthier alternative

2

tablespoons

rice vinegar

1

tablespoon

sesame oil

1

teaspoon

grated fresh ginger

2

cloves

garlic

minced

1

tablespoon

cornstarch

or arrowroot starch mixed with 2 tablespoons water (for thickening the sauce)
For the Tofu Skewers:
1

block of firm tofu

pressed and cut into cubes

1

red bell pepper

cut into bite-sized pieces

1

green bell pepper

cut into bite-sized pieces

1

red onion

cut into bite-sized pieces

Wooden or metal skewers
Instructions
Step 1: Prepare the Teriyaki Sauce
In a small saucepan, combine soy sauce, water, brown sugar, rice vinegar, sesame oil, grated ginger, and minced garlic.

Bring the mixture to a simmer over medium heat, stirring to dissolve the sugar and combine the flavors.

In a separate small bowl, mix cornstarch (or arrowroot starch) with water until smooth to create a slurry.

Gradually add the slurry to the sauce, stirring constantly until the sauce thickens. Remove from heat and set aside.
Step 2: Marinate the Tofu
Place the tofu cubes in a shallow dish or container.

Pour half of the teriyaki sauce over the tofu, ensuring all the pieces are coated.

Cover the dish and let the tofu marinate in the refrigerator for at least 15-20 minutes to absorb the flavors.
Step 3: Assemble the Skewers
Preheat your grill or grill pan over medium-high heat.

Thread the marinated tofu, red bell pepper, green bell pepper, and red onion onto the skewers in any order you prefer.
Step 4: Grill the Skewers
Lightly grease the grill grates or grill pan to prevent sticking.

Place the tofu skewers on the preheated grill and cook for about 5 minutes on each side, or until the tofu is nicely charred and the vegetables are tender.
Step 5: Glaze with Teriyaki Sauce
Brush the cooked tofu skewers with the reserved teriyaki sauce, coating them evenly.

Let the skewers cook for an additional minute, allowing the sauce to caramelize and form a delicious glaze.
Step 6: Serve and Enjoy!
Remove the teriyaki tofu skewers from the grill and serve hot.

Garnish with chopped green onions and sesame seeds if desired.

Serve with steamed rice or your favorite stir-fried vegetables for a complete and delightful meal.
Notes
Feel free to customize the vegetables used in the skewers according to your taste preferences. You can also add pineapple or mushrooms for additional variety and flavor. Enjoy these Vegan Teriyaki Tofu Skewers as a delightful main course or appetizer, perfect for any occasion!
Nutrition
Serving:
100
g
Calories:
124
kcal
Carbohydrates:
1
g
Protein:
1
g
Fat:
1
g
Saturated Fat:
1
g
Polyunsaturated Fat:
1
g
Monounsaturated Fat:
1
g
Trans Fat:
1
g
Cholesterol:
1
mg
Sodium:
1
mg
Potassium:
1
mg
Fiber:
1
g
Sugar:
1
g
Vitamin A:
1
IU
Vitamin C:
1
mg
Calcium:
1
mg
Iron:
1
mg
Did you like my recipe?
Share and mention @veganpeak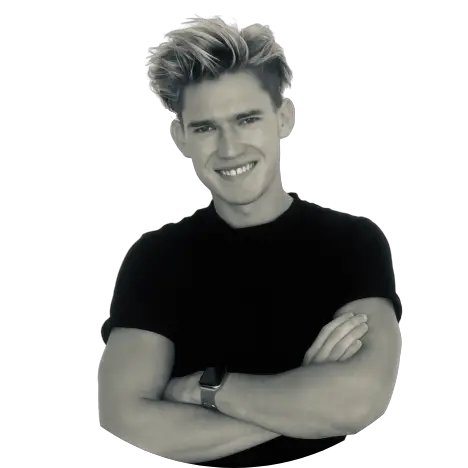 Hey, I'm Gus! I have been vegan for quite some years now, and have collected a lot of knowledge about the subject in this time. My goal with this blog is to spread the vegan message and make it easy to know exactly what's vegan and what's not.