After eating many different vegan popcorn, I thought it would be nice to make a list of my favorite vegan popcorn brands, for all you vegan popcorn lovers.
I have tried numerous vegan popcorn in my time as a vegan. I generally love popcorn, even way before I became vegan. The different flavors you can have, and the texture itself is incredible. Although it's sometimes a bit difficult to find vegan popcorn brands. Especially if you are like me, and love many different flavors and spices. So I made this list of my favorite vegan popcorn brands to give you some inspiration on vegan popcorn.
While many of these brands are entirely vegan and all flavors in this list are vegan, not all are. Meaning that you still need to make sure that individual tastes of the brand are entirely vegan before purchasing. However, I did my research on these particular brands and flavors. The listed flavors are fully vegan, while the brand might have some non-vegan options. Although these specific vegan popcorn brands have numerous vegan options.
---
Is Popcorn Vegan
You are likely wondering whether or not popcorn is generally vegan. The truth of the matter is that many popcorn brands are vegan, although not all. It's essential to distinguish that standard popcorn is vegan, while not all brands and flavors are. Some brands use non-vegan ingredients such as animal fats and other hidden animal products. Ingredients like "Natural flavors" often refer to animal products, but that's not always the case.
This differs from brand to brand, but some flavors are almost always not vegan. As you might expect, popcorn with butter flavors are not. At least not always, as it's possible to make artificial butter flavors. So it's still essential that you make sure your popcorn is vegan before purchase.
Determine If Popcorn Are Vegan
There are a few ways to determine if your popcorn is vegan. Many products are directly marketed towards vegans. These usually have a vegan label or certification. That's always the safest method of buying vegan popcorn, although many regular kinds are vegan as well. Simply read the ingredients list and avoid anything related to animals. Anything on there you are unsure of? Simply Google it. It's fast and easy to do, especially if you opt for the more simple flavors.
Alternatively, contact the popcorn brand themselves! They all have customer support available that's just waiting for your questions -and they are usually happy to answer any diet-related question.
This leads us to what you have been waiting for. The best vegan popcorn brands that you can buy right now! Here they are.
Vegan Popcorn Brands
Let's dig into the different vegan popcorn brands. Not all of their popcorn necessarily entirely vegan but they do have some that are. However, all popcorn in this list are carefully examined by their ingredients. So you can safely have any of these popcorn if you are vegan. You should still check whether other flavors of the brand is vegan by looking at the ingredients. So here they are, some brands that have vegan options in their selection.
1. Angie's Vegan Salted Caramel Popcorn
If you are like me, you LOVE some exciting popcorn flavors. Sea salt is good and all, but sometimes you want to get something different. The salted caramel popcorn from Angie's, is not just vegan, but also delicious. This vegan popcorn brand also has other exciting flavors. Another vegan option I can recommend from this brand is sweet and salty. However, not all flavors are entirely vegan, so be sure to avoid these.
2. Pop Art, Popcorn Thai Coconut Curry
Granted, these might be a little too wild for most. As said before I like the different flavors, so I still wanted to include this. It's a highly socially responsible popcorn brand, as many others are as well. So they have many vegan-friendly options as well as use non-GMO corn, alongside other common vegan concerns. Give this a try if you dare to try something different.
3. Bob's Red Mill Yellow Popcorn
These popcorn are completely vegan in any way. In fact, this particular bag only has one ingredient, and that's whole grain yellow corn. A great choice if you love making your own popcorn and seasoning them yourself.
4. Tiny But Mighty Heirloom Popcorn
This popcorn brand puts a lot of emphasis on giving back. They are highly involved in their local community, according to their website. So these are great in this regard, and they have a few vegan options. However, be aware that some options are not vegan as they are made with real butter. These should be avoided, but otherwise, it's a great choice.
5. 365 Everyday Value, Organic Popcorn, Classic Salted
You might already have heard of 365 Everyday Value. It's generally a good brand as they have many organic and vegan options. Moreover, the price of this brand is usually pretty good compared to its quality. The same goes for this vegan popcorn that is organic, non-GMO, and vegan-friendly. This is all certified by external organizations.
6. Pipcorn: Sea Salt
These popcorn are much smaller than regular ones. This makes them more comfortable to eat, and according to themselves easier on your teeth. I'm not entirely sure I agree with that, but the small size is something different. I like trying something new, maybe you do too. The popcorn themselves are non-GMO, and the only other ingredients are olive oil and sea salt. This is a much better choice of oil than something like palm oil.
7. SKINNYPOP Original Popped Popcorn
Another excellent option for the snack hungry vegan. There are many great things about this popcorn brand. It's non-GMO, gluten-free, and obviously vegan. It's also free of all trans fats and relatively low in calories. Don't think that means the popcorn brand compromise on flavor or texture. In fact, I really enjoy both the texture and taste of this particular vegan popcorn brand.
8. Popzup Popper
A very different brand as they are microwave popcorn, but using a new method. So why is that? Well, you can eat right out of the box after microwave. It's a much more environment-friendly method as well. The box is without plastics and silicone, which microwave popcorn often have. You can even reuse the box! When it comes to flavors, there are many options, although not all are vegan. The following flavors are not vegan; Buttermilk Ranch, Pure Butter & Sea Salt, Pure Cheddar & Sea Salt, Salted Caramel & Smoked Caramel. Although fear not, there are many other vegan flavors to choose from.
9. Amish Country Popcorn
The Amish Country Popcorn has a lot of different flavors that are all vegan. They are also grown and produced in the US. That means that you can rest easy knowing they aren't produced under inhumane conditions. In addition to that, it's entirely without gluten or GMO's. Great for those following a gluten-free or especially natural diet. Take a look at them if you are any of these.
10. Dutchman's Popcorn Coconut Oil Butter
Admittedly, this is not actually popcorn. Although it's a great addition to your plain popcorn, which is reasonably easy to find. Natural popcorn is mostly vegan, and sometimes you just want some extra flavor. So I included this vegan popcorn butter to help you do this. Vegan popcorn with butter flavor is tough to find, so this might just be your solution. Buy some of the simpler natural flavors and add this to them. Trust me, it adds a lot of flavor. Fantastic if you are a vegan who misses the taste of butter popcorn.
-Hungry for vegan rice cakes? Click here to see my favorites.
Conclusion
These are my fantastic vegan popcorn favorites. At least I think they are amazing. I have done my research on every single popcorn flavor in this list. So you can safely eat any on this list. However, as with most things, it's essential to check the ingredients if you want to try other flavors of the same brand. Ingredients often differ from countries and in the future, which is something to think about. It's always your safest bet to check the ingredients regularly. Although most companies are becoming more socially responsible. Meaning odds are that more flavors will be vegan in the future, instead of the opposite.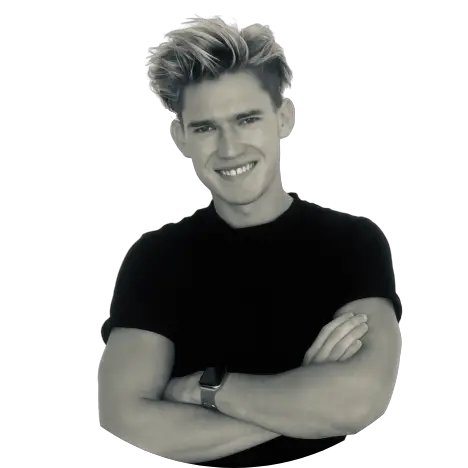 Hey, I'm Gus! I have been vegan for quite some years now, and have collected a lot of knowledge about the subject in this time. My goal with this blog is to spread the vegan message and make it easy to know exactly what's vegan and what's not.