You have the munchies and are looking for the best vegan brownie mixes.
You are here because you love brownies, but making them from scratch is a bit time-consuming. So sometimes buying a brownie mix is best. -And it does not have to be any worse than the home-cooked.
Many of these vegan brownie mixes have additional proteins, fibers, and most of them are entirely gluten-free. Those are all things your regular brownie won't have. So it's actually sometimes a healthy option.
I have tried these brownies myself. Although not all of them have the same exact taste of texture as regular brownies, it's close. Some are actually a little better than the brownies I'm able to make myself.
So let's jump into the list of the 10 best vegan brownie mixes.
---
About Time – Protein Brownie Mix
You may notice that this particular brownie mix looks very similar to your standard protein powder. Well, that's not just for show.
This vegan brownie mix is very high in proteins, with 6 grams of protein in each brownie. Although that's not all, it also has 5 grams of fiber per brownie. -So this vegan brownie mix is just what you are looking for if you need a little extra protein.
---
Miss Jones – Organic Fudge Brownie Mix
This vegan brownie mix is all about natural and organic ingredients. So it's only the best ingredients with no artificial garbage added. -Which also means no GMO's whatsoever.
Even though it's a natural and healthier choice, that doesn't affect the taste. It's most likely one of the most spongy and real-tasting brownies I have tried. However, it's not packed with additional proteins or fibers either. So it depends on your preference.
---
Enjoy Life – Classic Chocolate Brownie
Enjoy life has many vegan options, and most of them are quite good. The same goes for their classic chocolate brownie mix. It's your standard brownie mix, without any added flavors or such.
As with many of their products, it's also 100% gluten-free. Meaning it's suitable, even for the gluten-free vegans. It's also high in plant-based proteins, at least compared to other vegan brownie mixes.
---
Really Great Food – Brownie Mix
The Really Great Food company is one of those brands you want to support. For one, the company is family-owned and produce in their own facilities. -And the brownies are of the highest quality.
Particularly this product, as it's certified vegan, among others, from external organizations. So you know it's a safe choice.
---
Boulder Bake – Vegan Brownie Mixes
This one is a little different, as it's both Paleo and vegan. In fact, it's quite rare to find products that are both. -Mainly because most people following a eat a lot of meat products. Although this is 100% vegan, and Paleo even though it seems weird.
It's Paleo because it's low in carbohydrates and high in proteins. So it's an excellent choice if you want to cut down on carbs. -Which can be beneficial at times.
---
ZenSweet – Dark Chocolate Brownie Mix
Vegan chocolate is good, but dark vegan chocolate is even better. Granted, not all like the added bitterness of dark chocolate. Although, if you are like me, you will love this brownie mix. In fact, it's one of my favorite vegan brownie mixes.
The dark chocolate also means less sugar is needed. As a result, it's a low carb option that's keto-friendly. -Which is something I personally like.
---
Life Can Be Sweet Without Sugar – Brownie Mix
What makes this vegan brownie mix so different is that it comes with toppings. Just like cupcakes, toppings just make everything better.
As the name suggests, it's also a low sugar option. -And it's always good to opt for less sugary options. It means your blood sugar levels increase much less rapidly than they otherwise would. Thus keeping you full and satisfied for longer.
---
Madhava – Ancient Grains Brownie Mix
Madhava's vegan brownie mixes might be a little pricey, but you do get a lot of quality for your money. They use ancient grains in the mix, which is naturally higher in plant-based proteins.
In addition to that, Madhava opts for coconut sugar instead of regular sugar. Meaning the sugar you get is much less refined. -Which in return, keeps your blood sugar levels stable, and less prone to excessive eating.
---
Cherryvale Farms – Walnut Brownie Mix
When I make brownies myself, I always add a few walnuts. While when I use vegan brownie mixes, I simply add it to the mixture. -Although, this brownie mix is the full package, as you don't need to buy additional walnuts.
If you are like me and love walnuts in brownies, then this is the mix you are looking for. Besides 100% plant-based, it's also certified vegan and easy to make.
---
Cup 4 Cup – Vegan Brownie Mixes
To finish this list off, we have the high-end Cup 4 Cup brownie mix. It's a little expensive, but they have some great vegan brownie mixes.
Made with high-quality ingredients and both non-GMO and vegan certified. As well as being gluten-free, as most mixes in this list.
Also Check Out: Vegan Pancake Mixes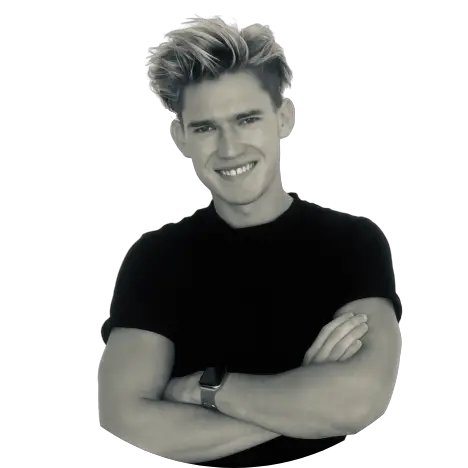 Hey, I'm Gus! I have been vegan for quite some years now, and have collected a lot of knowledge about the subject in this time. My goal with this blog is to spread the vegan message and make it easy to know exactly what's vegan and what's not.