M&Ms are one of the most popular chocolate snacks in the whole world, but are they vegan and vegetarian?
M&Ms are not vegan as they contain large amounts of dairy and have food coloring produced with animal-testing. Although, they are mostly free from any actual meat or flesh, meaning vegetarians can safely consume most flavors of M&Ms.
Luckily, there are many vegan M&M alternatives to found. That's because chocolate can be made vegan, while sugar is mostly vegan. This article contains some of my favorite vegan alternatives to M&Ms, so have a look at these if you want.
---
Are M&Ms Vegan
M&Ms are typically not vegan as they contain large amounts of dairy, as well as coloring made with animal-testing. However, there are many different versions of the classic M&M so it's essential have a view at all of them.
The following list views at some of the most popular M&Ms and its ingredients to identify whether or not they are vegan.
---
Are Regular M&Ms Vegan
M&Ms may seem innocent with their fruity colors, but there is bad news ahead for vegans. M&Ms are not vegan since they contain varies non-vegan ingredients, including dairy products, natural flavor, and food coloring.
There is a lot of vegan food coloring out there but some of them either contain animal products, or are tested on animals. Coloring such as the Yellow 6 is artificially made, which is usually good, but the issue is that it's also tested on animals.
Other reasons not to eat the Yellow 6 coloring is that studies find the toxins increase hyperactivity in children. So both you and the animals are better off not consuming regular M&Ms.
Ingredients in M&Ms
Milk Chocolate (Sugar, Chocolate, Skim Milk, Cocoa Butter, Lactose, Milkfat, Soy Lecithin, Salt, Artificial And Natural Flavors), Sugar, Cornstarch, Less Than 1% – Corn Syrup, Dextrin, Coloring (Includes Blue 2 Lake, Blue 1 Lake, Yellow 5, Yellow 6, Yellow 6 Lake, Red 40, Red 40 Lake, Blue 1, Yellow 5 Lake, Blue 2), Carnauba Wax, Gum Acacia.
The non-vegan ingredients are bold in the above ingredients list. One thing you may notice is that natural flavor is not vegan. It's a common misunderstanding that that ingredient is vegan, since it's natural. However, natural flavor is an umbrella term that describes numerous ingredients including milk, beef, and other non-vegan ingredients.
---
Are Peanut M&Ms Vegan
Peanut M&Ms actually have one of the longest ingredients list I have ever seen, with more than 11 lines of text. One ingredient after the other, and complicated ingredient lists are usually an issue with a vegan diet. Mainly because there is a larger possibility of some non-vegan ingredient to hide in there somewhere.
Peanut M&Ms are not vegan as they contain varies milk products, palm oil, and different food coloring which is not vegan. Besides some of the most prominent ingredients in Peanut M&Ms are things such as dairy. Therefore Peanut M&Ms is not vegan in any way.
Read this article through to the end to find some amazing alternatives to this M&M.
---
Are Peanut Butter M&Ms Vegan
Peanut Butter M&Ms are by far one of the most popular options out there. It's crunchy, sweet and fat. But the issue remains that the ingredients are not vegan.
Peanut butter M&Ms are not vegan as they contain milk, palm oil, natural flavor, and non-vegan food coloring. So it's definitely not a snack suited for vegans.
It should be noted that ingredients such as Natural flavor can be vegan, as it's an umbrella term that includes many different ingredients. So it's not certain that this includes dairy, meat, or eggs. Although, the other ingredients alone make them not suited, which is good, as it can be highly difficult to attain ingredients hidden within the "natural flavor" label.
Ingredients In Peanut Butter M&Ms
Milk chocolate (sugar, cocoa butter, chocolate, skim milk, milk fat, lactose, peanuts, soy lecithin, salt, artificial flavors), peanut butter (partially defatted peanuts), sugar, partially hydrogenated palm kernel oil, less than 2% of: cornstarch, natural flavor, salt, corn syrup, dextrin, coloring (includes red 40 lake, blue 1 lake, yellow 5 lake, yellwo 5, blue 2, yellow 6 lake, blue 1, red 40, blue 2), propyl gallate to maintain freshness. May contain almonds.
---
Are Dark Chocolate M&Ms Vegan
Chocolate is not inherently non-vegan. It's derived from the cocoa bean, which is a 100% plant-based products. That being said, most chocolate contains milk, and the popular milk chocolate variety contains the most.
The dark chocolate M&Ms may have dark chocolate, but are not vegan. The chocolate contains skim milk, and the outer layer has animal-tested coloring. Thus the dark chocolate M&Ms are not suitable for vegans due to numerous reasons.
So you can sadly not enjoy version of M&Ms either. However, there are plenty of vegan alternatives to M&Ms, so fear not. I have listed a great vegan alternative to M&Ms later in this article.
Ingredients in Dark Chocolate M&Ms
Ingredients: Semisweet Chocolate (Chocolate, Sugar, Cocoa Butter, Skim Milk, Milkfat, Lactose, Soy Lecithin, Artificial Flavors, Salt), Sugar, Cornstarch, Less than 2% – Corn Syrup, Dextrin, Coloring (Includes Blue 1 Lake, Yellow 6, Red 40, Yellow 5, Blue 1, Blue 2, Red 40 Lake, Blue 2 Lake, Yellow 6 Lake, Yellow 5 Lake), Gum Acacia.
---
Are Crispy M&Ms Vegan
Crispy M&Ms are not vegan because they contain varies animal-derived products, such as milk. That's one major ingredients vegans need to avoid as it's present in many foods and highly unethical. The coloring is also not vegan as most of them are produced using animal-testing.
Animal-testing is not vegan as it causes immense harm to the animals. It's present in many artificial ingredients and cosmetics, such as perfume. Many glues also use animal testing, which includes large clothing brands. Luckily larger brands such as Nike, don't use animal-tested glue anymore.
Therefore Crispy M&Ms are not vegan in any way. There are numerous reasons that vegans should avoid this specific type and M&M's altogether.
Ingredients In Crispy M&Ms
Ingredients: milk chocolate (sugar, chocolate, skim milk, cocoa butter, lactose, milkfat, soy lecithin, pgpr, salt, artificial flavors), sugar, crisp rice (rice flour, sugar, barley malt, salt, dextrose, mixed tocopherols), less than 2% – cornstarch, corn syrup, dextrin, coloring (includes blue 1 lake, yellow 6, red 40, yellow 5, blue 1, yellow 6 lake, red 40 lake, yellow 5 lake, blue 2 lake, blue 2), gum acacia. allergy information: contains milk and soy. may contain peanuts and wheat.
---
Vegan M&M alternatives
There are many different vegan alternatives for M&Ms to be found online. They are very similar in texture, taste, and types. Meaning you can find most of their popular types in vegan versions, such as the Peanut, and dark chocolate M&Ms.
Here's a list of the best vegan M&M alternatives I have ever tried. They are so similar that a blind-test could have me fooled any day.
Unreal Chocolate Peanut Gems
Unreal makes the best alternatives to M&Ms, as they are very similar. All the ingredients are plant-based and entirely vegan. Another amazing thing about this brand in particular is that they have vegan values. Their products are vegan and the mission is specifically to make vegan substitutes for otherwise non-vegan candies.
You may want to have a look at the ones above, or view their other products. Click on the link above to see the peanut kinds, as well as the other options.
Chocomels Chocolate Sea Salt
Now, these vegan M&Ms are a bit different. Although, they are made into little bites and great for sharing. The flavor is simply amazing, with chocolate, caramel, and sea salt. Salty snacks are most definitely a favorite for me, and you may love them too.
There are many different options, including one with banana. Have a look at them, or view the other flavors. You may find something you like!
---
Are Any M&Ms Vegan
There are not any vegan M&M options at this time. They all contain ingredients that are not considered vegan, since they are derived from animals. Other problematic ingredients include the coloring, which is made with the use of animal-testing.
Although there are many M&M flavors and types, none are vegan. Even the dark chocolate, or coconut M&Ms are not vegan. They all contain quite large amounts of dairy, both dark and milk chocolates. That's true for most popular chocolate based candies, such as Reese's as well.
So vegans should opt for other candies. Luckily, plenty of similar vegan candies are available in stores and online. One amazing place to shop for vegan food and candy is Amazon, as you can gain a lot of insight on the products, and browse through thousands of options.
---
Are M&Ms Vegetarian
Vegetarians cannot eat meat. Many eat eggs and drink milk, but it depends on your individual believes. Some do while others don't. However, the most important aspect of vegetarianism is avoiding meat, and products derived from it.
All M&Ms have quite a lot of ingredients, many of which can seem daunting, but they are 100% vegetarian. That's because non of the ingredients are made of meat, flesh, enzymes or similar ingredients.
One particularly problematic ingredient for vegans and vegetarians is natural flavor, as the terms covers many different ingredients, even meat. Luckily, many M&Ms are free of this ingredient and other problematic ones.
That being said, M&Ms do contain ingredients made with animal-testing. So you may want to avoid them for this reason. Although it depends on your individual believes about this practice.
Vegetarian M&M Flavors
Peanut Butter M&Ms

Dark Chocolate M&Ms
Crispy M&Ms
Mint Dark M&Ms
Pretzel M&Ms
Caramel M&Ms
White Chocolate M&Ms
Birthday Cake M&Ms
Now, you may not know of all these types and flavors. I didn't even know they come in coconut flavor before writing this article. Although, it seems that that particular flavor is a limited edition. You can view them on Amazon by clicking here.
These flavors are all vegetarian as they are without meat and eggs. All of them contain large amounts of dairy, but that should be suitable to most vegetarians.
Please note that: ingredients change over time, and location, so always check the nutritional label to make sure it's vegetarian. If in doubt, contact the company department in your location.
---
Conclusion
Sadly, vegans cannot have the traditional M&Ms, but there are some great alternatives if you really crave M&Ms. In fact, you are most likely not going to be able to tell the difference. Vegetarians, on the other hand, have it easier. They can have almost all M&M flavors as there is no amounts of meat or flesh, not even trace amounts.
I hope this article helped you out. Thank you.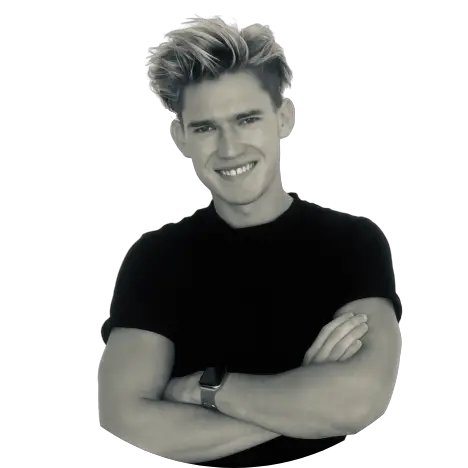 Hey, I'm Gus! I have been vegan for quite some years now, and have collected a lot of knowledge about the subject in this time. My goal with this blog is to spread the vegan message and make it easy to know exactly what's vegan and what's not.