A pair of vegan hand grips are the optimal equipment if you want to increase your performance. Whether it's weight lifting, CrossFit, or gymnastics. Vegan hand grips help to secure your grip and reduce slipping.
Hand grips are essential for safe and secure training. However, it's not just safe, they also enable you to perform much better due to enhanced grip. Having a more secure grip means you can psychologically max-lift much more than you otherwise would.
In fact, hand grips often come with wrist wraps. Meaning you no longer need to let your wrists or grip hold you back.
Think about this. Many lifting exercises require a lot of weight. Exercises life benchpress and deadlifting are two of them. These use many large and strong muscles that far surpass that of your wrists. So it's no surprise that heavy lifting requires a pair of high-quality wrist grasps if you want to use your body's muscles fully.
1. JerkFit – Full Palm Protection
This pair of vegan hand grips have two functions. One is the traditional hand grip that adds more stability to your training, and the other is a wrist grab. Just as you might expect, this means that you gain double the confidence than you otherwise would.
Having both allows you to focus on your training. Whether it's Crossfit, weight lifting or gymnastics. Your wrists and hands will not hold you down. Besides these hand grips are made entirely in the USA. Meaning you don't accidentally support any inhumane labor practices.
2. Bear KompleX – Carbon Hand Grips
Hand grips made almost entirely from carbon. This specific hand grip has seen a lot of success recently, as people are starting to see the benefits. Carbon is both very lightweight and reduces slipping. It's a much better material than the traditional leather hand grips. Carbon honestly seems to be the future of weightlifting, and many other sports for that matter.
While Bear KompleX has a lot of non-vegan options, these entirely vegan. Made from carbon and without any leather. The use of carbon means that they are a little more expensive than most others. However, this is 100% the best material for hand grips that you will ever try.
3. Ventilated Hand Grips
This pair of hand grips also offers the extra stability of wrist wraps. Although the size of the wrist wraps is not that large. Thus they don't have the power to assist your training as most as the previous hand grips.
While that's true, these offer more protection to your hand. They are much closer to a training glove than many other wrist wraps. That's awesome if you are prone to damage your hand. That's a thing that most beginners experience, but some can have these issues for a long time. So these can help your hands stay nice and damage-free.
That's one thing I could have used, then I first started weight training.
4. New Grip Gym Gloves
These wrist wraps are made entirely of cotton. In case you are worrisome, cotton is vegan as it's derived from a plant.
Cotton is not only cruelty-free, but it's also much better than the regular leather wrist wraps. Mainly because they are much easier to wash. Anyone who has used training gloves, wrist wraps, or gloves will know this. They are going to smell horrendous after a month without a wash. Although these can be thrown in the washing machine alongside your other training clothes.
5. Heavy Duty PRO Metal Lifting
This is for the advanced lifter who wants to take it up a notch. The Heavy Duty grips from Grip Power Rads are made with actual metal. So you can use these for even the heaviest lifts and be sure that you won't slip.
It also works as a pair of solid wrist wraps. They are thickly padded, which reduces stress on your wrists and enables you to do more. So you can use the full power of your muscles and forget about your wrists holding you back.
Just think about this. Deadlifting uses many of your body's most prominent and strongest muscles. So you can do a lot of weight during this exercise. However, your wrists have far from the same strength. So having a pair of Heavy Duty lifting grips will surely increase your max lift dramatically.
6. ProFitness Cross Training Gloves
Now it's time for something a bit different. ProFitness is known for its quality fitness equipment, and this is no exception. They are made with a silicone grip, which makes for a much more stable grip.
Have you never tried training with silicone equipment? In that case, you need to try it. It makes your hand stick to the weights and other things, without getting stuck. That's because it locks tight when you grip a weight, or do a pull-up, and unlocks the moment you open your hand. So it's in no way dangerous.
7. Armageddon Sports – Weight Lifting Hand Grips
Extra padded weight lifting hand grips. They are suitable for weight lifting of all sorts, which includes CrossFit. They offer a bit more comfort than other vegan hand grips as it's extra padded and equipped with a strong Velcro strap.
Another great thing about this specific hand grips is that it works as a combination of both gloves and lifting straps. Meaning you can lift more, safely and securely, while putting less stress on the skin of your hand. Again, very important for beginners where the skin is too fragile for even moderate weights.
8. Hustle Athletics Wrist Wraps
These wrist wraps are made from cotton and elastic. So it's a much more tight and secure fit than many other vegan wrist wraps. They provide a lot of support due to the size of the straps on your wrists. While the elastic helps them stay in place.
Using a pair of vegan wrist wraps like these is especially suitable for beginners, or someone who needs an extra edge. The safe and secure feeling while wearing wraps allows you to lift and perform better than you otherwise would.
Note that these are available in different colors. So you will definitely find a pair that fits you and your style.
Also Check Out: Vegan Golf Gloves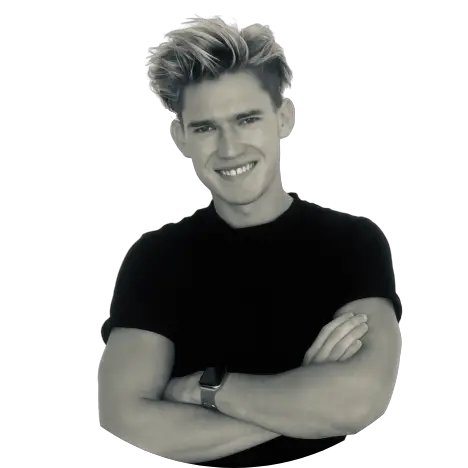 Hey, I'm Gus! I have been vegan for quite some years now, and have collected a lot of knowledge about the subject in this time. My goal with this blog is to spread the vegan message and make it easy to know exactly what's vegan and what's not.