You want to have a pair of all-vegan non-leather baseball gloves, that's just as good as the regular leather ones?
Honestly, this short list took a long time to make. It's not very easy to find vegan baseball gloves, as almost every single one is leather. Many people associate leather with the highest quality, so that's what the brands make.
Although that couldn't be further from the truth. Synthetic leather can be much more durable, flexible, and robust than regular leather. So it's no surprise that many of the pros actually prefer synthetic leather baseball gloves.
Don't believe me? Well, then this list might surprise you. Leather is not only cruel but also a thing of the past. Synthetic leather has much more potential -and brands are starting to understand this. So let's have a look at the best vegan leather gloves.
1. Franklin Sports – Field Master
Synthetic leather baseball gloves from Franklin Sports are not only of high quality but very reasonably priced. That's one of the perks of being 100% vegan. Non-leather items are generally much cheaper than the ones with real leather. In addition to that, synthetic leather often better than the regular even.
2. Rawlings – Renegade Baseball Glove
This glove from Rawlings is made for all positions. It has extra comfort compared to others while being flexible and thick. So it can be used for all positions, which they also advertise themselves. An awesome baseball glove, where you get a lot of quality and utility for your money.
3. Franklin – Sports Baseball Glove
Franklin Sports actually have quite a lot of vegan baseball gloves. They are made using synthetic leather, and even advertised as such. That's something I think is important in a brand, as it shows they care about animal cruelty. Other than that it's made with a thick, high-quality synthetic leather, which makes it both durable and long-lasting.
4. Mizuno – MVP Prime SE Gloves
This pair of vegan baseball gloves from Mizuno is made from bio-leather. That's a term that many brands use to give the impression that real leather is present. Although bio-leather is actually made of plant-fibers. In addition to being vegan, it's also just an amazing baseball glove. Extremely high quality with a lot of attention to detail.
(ATTENTION: An email inquiry to the company found the bio-mesh leather most likely contains some amount of real leather)
5. Wilson – A2000 SuperSkin Baseball Glove
Here's the ultimate baseball glove for the player who doesn't want to compromise. It's made from the highest quality synthetic leather possible. The gloves are made of something called Superskin, as created by Wilson (Yes, it's vegan). Superskin has twice the strength while being half the weight of regular leather. So it's no surprise that even many of the pro baseball players use this right now. -Truly an example of the superiority of synthetic leather.
Disclaimer: This specific glove is not 100% vegan as it contains a little stock-leather. Although I still don't want to leave this one out as it shows that synthetic leather is not only as good as leather but much better. -You might want to try these out despite the small amount of leather, as it's almost purely made from synthetic materials.
Also Check Out: 100% Vegan Golf Gloves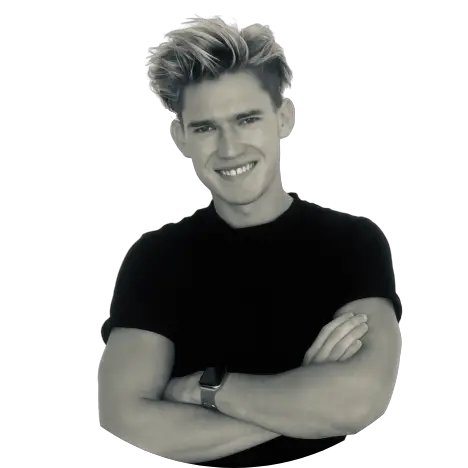 Hey, I'm Gus! I have been vegan for quite some years now, and have collected a lot of knowledge about the subject in this time. My goal with this blog is to spread the vegan message and make it easy to know exactly what's vegan and what's not.