You have the munchies and think which are the best vegan cookies you can buy?
Well, you are not alone. I always want to try out new vegan products and flavors, which means I know my snacks. Vegan cookies are one of them, as I'm a big fan of sorts of flavors. Sugar, chocolate, breakfast, you name it.
I'm always highly cautious of my choices, and always read every single ingredient. That also includes looking up unfamiliar ingredients, and even contact customer support of the company.
I have done that on these cookies, so you don't have to! All these cookies are 100% vegan guaranteed. They are entirely free from all animal products, and most are both organic and gluten-free.
---
15 Best Vegan Cookies
These are some of my favorite vegan cookies. They are all 100% vegan guaranteed and free from any animal exploitation. Not enough for you? Most are also GMO and gluten-free!
Many are available in regular stores, although some can only be bought online. Read along to see my 15 favorites and where you can purchase them.
1. Lucy's Sugar Cookies
This is the perfect vegan sugar cookie if you have a craving for sugar cookies. It's awesome because it's GMO and gluten-free. Meaning it's suitable for anyone following a vegan diet that also excludes gluten. It's also made in the USA which ensures humane working conditions. So it's good for both animals and our fellow humans!
---
2. Lenny & Larry's Chocolate Chip Cookie
Did anyone say chocolate chip cookies? Yes, it's a thing. This is one particular chocolate chip cookie I often buy -and I love it. In fact, it's one of my favorites. Check it out if you get the chance!
---
3. Biscoff Cookies Original
A little different from other cookies, but still quite good. It's a European biscuit cookie that's usually eaten with coffee or tea. I have checked the ingredients, and they are 100% vegan even though it does not say on the front. Great for coffee or tea lovers.
---
4. Steve And Andy's Oatmeal Coconut Cookies
A sweet and simple taste experience. I personally enjoy the pure taste of oatmeal and coconut. Furthermore, it's even gluten-free and entirely organic. What's not to love?
---
5. Simple Mills Crunchy Cookies
Another great vegan chocolate chip cookie. This particular brand puts emphasis on health and using natural ingredients. Meaning it's much lower in sugar than other brands while using organic ingredients.
---
6. Foodstirs Organic Sweet Tooth Sugar Cookie
We all love a good sugar cookie once in a while. Well, at least I do. Although it's probably not just once in a while. Nevertheless, a great tasting vegan sugar cookie.
---
7. Lenny & Larry's Crunchy Cinnamon Cookie
Cinnamon is terrific in cookies, and the same goes for these. Have you ever tried cinnamon cookies? If you haven't, then this is an excellent introduction to them. Even if you have, these are the ones you need to try.
---
8. Lenny & Larry's Crunchy Double Chocolate
One thing is chocolate chip cookies. Another is a double chocolate chip. Meaning double the amazing flavor of vegan chocolate!
---
9. Munk Pack Vegan Protein Cookie: Double Dark Chocolate
Why not add a little protein to your munchies? This is the perfect combination of delicious cookies and protein. In fact, this one offers quite a lot of protein for such a small cookie!
---
10. Munk Pack – Peanut Butter Chocolate Chip
I personally love a good peanut butter cookie – and what's good with peanut butter? Well, many things, but chocolate is one of them. If the taste isn't enough for you, hopefully, the 18 grams of protein is!
---
11. FreeYumm Ginger Cookies
Simplicity is often vital when choosing a healthy cookie, that's also vegan. Freeyumm is one of these cookies. In fact, this might be the most allergen cautious cookie out there. Which also means you can rest easy that absolutely NO animal products make their way into these cookies.
---
12. FreeYumm Banana Maple Cookies
Another great flavor from Freeyumm. Banana in cookies might just become your favorite vegan snack in the future. Be careful though, you might become addicted to the taste of these.
---
13. Erin Baker's Breakfast Cookies: Gingerbread
Cookies don't to be all that unhealthy. They can be packed with both protein and fiber. Erin Baker's breakfast cookies are one of these. You can have this on the go or toast it in the morning. A delicious and quick breakfast.
---
14. Erin Baker's Breakfast Cookies, Carrot Cake
Another fantastic breakfast cookie from Erin Baker's. Made with oatmeal, carrots, coconut, and other healthy ingredients. This particular flavor has 6 grams of protein and fiber. A great choice for the health conscious vegan.
---
15. CompletEats Cherry Almond
CompletEats pride themselves as being a superfood. With good reasons as it's quite a healthy cookie. Especially considering the amazing taste. Especially the cherry and almond flavor is excellent in my opinion. Give it a try.
Also Check Out: My 24 Favorite 100% Vegan Chips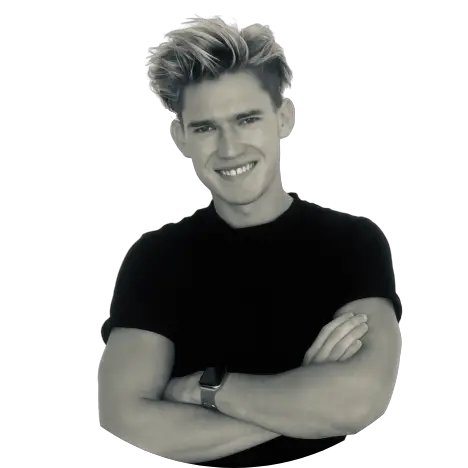 Hey, I'm Gus! I have been vegan for quite some years now, and have collected a lot of knowledge about the subject in this time. My goal with this blog is to spread the vegan message and make it easy to know exactly what's vegan and what's not.