They are simple, yet elegant, but are Converse vegan? Here's the full rundown of the different versions and how to buy them vegan.
Converse uses vegan glue, and many of their models are without animal products. All of the popular Chuck Taylor All Stars shoes are entirely vegan, as the outer layer is canvas, while the glue is synthetic. Although, One Star and Fastbreak models are not vegan, since they contain leather.
All this was confirmed in an email inquiry to the company, which you can read further down. Some of you may be looking for vegan Converse alternatives. However, that's not included as the All Stars are already vegan friendly.
---
Are Converse Vegan
The most defficult thing about buying vegan shoes is the glue. It's fairly easy to recognize leather from non-leather models, while the glue is a bit more tricky. Many companies don't disclose their exact ingredients, and some use many different glues.
All Converse without leather are entirely vegan, as they all have cruelty-free glue. Meaning the glue is free from any animal product contamination. Although many models have leather, which is not vegan. So vegans can safely buy Converse shoes but it's important to avoid anything with leather, or wool, as these come from animals.
This was confirmed by an email Inquiry to the Converse company. They state that their glue is non-animal based, and some models are entirely vegan. Although, they also note the reason why they are not marketed as vegan. See below.
All our glues are synthetic and non-animal based. All our canvas, Chuck Taylor All Stars styles are vegan friendly. While the majority of our materials are animal-by-product free, the products could be manufactured in a facility which could contain animal-by-products. In result, it is not possible for us to advertise our products as being truly Vegan.

Email Inquire To Converse
Converse is not an entirely vegan company as they also produce leather shoes. These are produced in the same factory, meaning they cannot market themselves as vegan. That being said, their synthetic shoes are 100% vegan. That's also true for other shoe brands such as Nike and New Balance.
---
Which Converse Shoes Are Vegan
Converse is a large brand and has many models in its portfolio. These are all made in different shapes, sizes, and, most importantly, materials. Some sneaker models are vegan while others have either small or large amounts of leather.
One great thing about buying Converse shoes, or sneakers, as a vegan is that the glue is always vegan. Meaning that the only materials to avoid is the ones with leather. You can easily find the materials on the official website, Amazon, or other retailers.
Although, you are here to find out which Converse are vegan, so let's take a closer look at the different models and whether or not they are vegan.
---
Converse Chuck Taylor All Stars
The Converse All Stars is most likely the most popular collection. They are a classic hit from the company, and with good reason. Now, Converse states in the email inquiry that all canvas shoes within this collection are vegan.
So vegans can safely purchase any All Stars shoes, as long as they are made of canvas. There are many different styles of this model, some of which are not canvas. Many other styles are also vegan, as long as they are without any leather.
---
Miley Cyrus Converse
The Miley Cyrus shoes are a limited edition of the Chuck Taylor All Stars collection. All Chuck Taylor Converse are 100% vegan, as long as the outer material is not leather. Most of them are made of either canvas or other synthetic materials, while the glue is non-animal based.
I browsed through all the different Miley Cyrus Converse sneakers I could find. None of them seem to have leather or wool. So most, if not all, of them are entirely vegan. Although I encourage you to read the materials for yourself.
---
Converse Fastbreaks
Fastbreak Converse are pretty different from the traditional models. Maybe this is the reason they are not quite as popular, but are they vegan?
Most Fastbreak Converses are not vegan, as they have leather. This goes are all the styles I could find online, although it's possible vegan versions are out there. The glue is vegan, as stated by the company, so you merely need to avoid leather versions.
Don't be afraid to buy them if you can find a pair made of canvas, or other "plant-based" materials.
---
Converse One Star
One defining aspect of the Converse One Star is the suede, which is a type of leather. Vegans cannot wear leather, as it comes from an animal, and is considered highly unethical. In fact, some vegans may argue that the leather industry is one of the most cruel forms of animal exploitation.
All Converse One Star are made of leather with no exceptions, meaning they are not suitable for vegans. It's a shame as they are quite stylish, and would be a great addition to any wardrobe. We can only hope that Converse makes a vegan version in the future.
---
Are Leather Converse Vegan
Now, this may sound ridiculous to some of you, although the question is valid. Synthetic leather is used everywhere and almost indistinguishable from real leather. However, the leather Converse shoes and sneakers is not vegan.
The leather used in Converse collections like the One Star, is real leather. Meaning it's not suitable for vegans and those following a cruelty-free lifestyle. This goes for all models with leather that is not specifically listed as "synthetic".
Leather in clothing is one of the many reasons vegans quit, although don't let this hold you back. It gets much easier to recognize vegan from non-vegan over time.
---
Conclusion
So this is fantastic news for vegans. The most popular All Star Converse are entirely vegan, if they are made of canvas. However, the One Star model should be avoided as it's made of suede leather, which comes from an animal.
There may be some models not covered in this article. All the glue is vegan, so if you have a pair in mind, not on this list, simply look at the materials. Avoid anything with leather, wool, or other animal-based materials.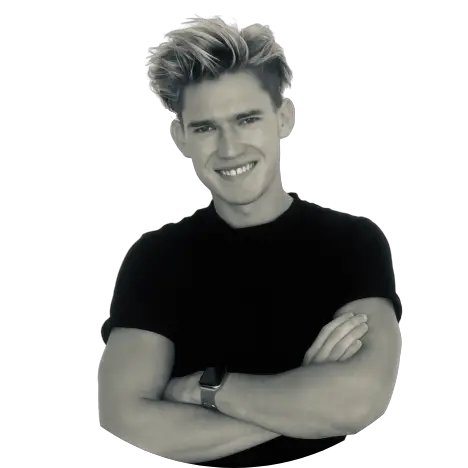 Hey, I'm Gus! I have been vegan for quite some years now, and have collected a lot of knowledge about the subject in this time. My goal with this blog is to spread the vegan message and make it easy to know exactly what's vegan and what's not.