Many Nike shoes are vegan today, but it can be a little difficult to identify vegan Nike shoes from regular ones. So are some examples of vegan options and how to choose Nike sneakers, shoes, trainers without any animal products.
Nike started using vegan glue with all their products in 2015, which was confirmed in an email inquiry to the company. However, many still contain some amount of leather or other materials made of animals.
Even trace amounts of animal products cannot be considered vegan so it's important to know how to choose vegan sneakers. The easiest way to determine whether or not they are vegan is buying from Amazon.
Why is that? Well, the listings on Amazon do a very good job of stating the materials. Usually with a short sentence in the description saying something like "leather", "synthetic", or both. So here are some examples of models that are vegan.
---
7 vegan Nike Shoes
---
Nike Viale SLP Sneaker
I personally like when shoes are a little different. The classic designs are good and all, but sometimes we want something new and different. -And the great thing about Nike is that you can always count on comfort, which makes them all a good choice.
You don't need to comprise on comfort for a cool design, when buying Nike shoes. This pair of vegan Nike sneakers is exactly that. A cool and different looking sneaker with great comfort that fits tight around you feet.
In fact, these specific Nike sneakers are made for optimal light weight and breathability. They achieve this with a textile mesh that optimizing breathability and a rubber sole that adds stability to your feet. -And yes, it's entirely vegan.
---
Nike Tessen Running Shoe
This is most likely the cheapest vegan Nike running shoe I have seen. You can get them for as low as $35, although it depends. So it really depends where you live and how lucky you are. Take a look at the current price through the link above, it may be your lucky day.
But what's so cool about these vegan running shoes? For one, they are vegan, which is definitely the most important thing about them. However, they also have a very cool design for a running shoe. Running shoes can sometimes be a bit boring in my opinion.
You may not have the same opinion, but this vegan running shoe definitely looks different from your classic designs. They are also available in a lot of different colors, if you are feeling adventures.
---
Nike Huarache Run Shoes
This design of sneakers is very popular at the moment, and for good reason. Not only do they look cool and stylish but they also offer a lot of comfort. Just look at that sole.
In fact, they are mainly used as a fashion Nike shoe but they are also branded as a running shoe. -Which obviously shows something about the comfort and stability these sneakers offer. Of cause, the question you may be asking yourself… Are these Nike sneakers vegan?
The Huarache Run Shoe from Nike is surprisingly vegan. It looks completely the same as real leather, but it's of entirely synthetic materials. Have a look for yourself through the link above.
---
Roshe One Trainers
Now, this specific model does not say "synthetic materials" and is not marked as being vegan. However, there is no indication that animal products are present in the making of this shoe. I can say this with confidence after searching the internet for lists of materials and production methods.
It's made of a knit material with a rubber sole. One thing people say about this Nike trainer is that its shape and material makes it usable even without socks. – Or maybe even better without socks. This also allows for better ventilation which this model is known for.
You can use it for all sorts of training, including running. Although it's always recommended that you get a pair of running shoes that are designed for you feet. Many sporting stores offer services where they determine the best shoe for your running.
So take advantage of that if you run frequently. However, these are fine if you simply run a little before or after an exercise, like I do.
---
Nike Air Max Thea
These shoes are listed as a pair of sneakers, even though they look more like rubber boots in my opinion. However, what's especially cool about these is that it looks exactly like leather even though it's made of synthetic materials.
Synthetic materials are always preferred to real when it comes to clothing. Usually we prefer the real stuff, but unfortunately real materials means animals products. At least when it comes to clothing. Companies essentially brag about using real materials, but don't let all of that marketing fool you.
Synthetic materials are not only more humane, but they are also better.
---
Luner Fingertrap
Nike is known for not only their awesome designs but also functionality. If there's one reason I love Nike it's due to how their shoes feel on my feet. A great example of this is the Lunar Fingertrap.
It feels like you are wearing nothing at all, because of the tight and light fit. Maybe an even better explanation is that it's like a foot-glove. You slip them on and they close around your feet in a way that I have not tried before.
I assume they feel kind of like the finger shoes I have seen around, although I have not tried the finger shoes. I really want to try them though.
---
Are All Nike Shoes Vegan?
It's very important to note that not all Nike shoes are vegan, as some of them contain leather. Although the company started using vegan glue back in 2015, so the process of finding a pair of vegan shoes is actually easier than ever.
You can read more about the switch to vegan glue, and other findings from an email inquiry to the Nike company in this article, I wrote.
Most of their shoes are either listed as containing leather, synthetic materials or a mixture of both. At least that's the case if you do your shopping at Amazon. It comes with a lot of advantages for vegans because it's easy to get an overview. In addition to that; many products are actually listed vegan, vegetarian, GMO, etc.
That's why I do most of my clothing, shoe, training shopping on there. It just makes the whole process much easier, and you don't need to ask about every single item in a shop. -Which is quite tedious as the employees often don't know.
What Nike Shoes Are Not Vegan
There's mainly 2 things you need to consider whenever you buy a pair of Nike sneakers, trainers, shoes, etc. They need to be without any real leather, as leather always comes from an animal. In fact, leather is actually animal skin, so definitely not a vegan product.(more)
The important thing to note is whether or not the item is from before 2015. That's because, Nike used to have non-vegan glue in their shoes before that time. There may be some vegan Nike shoes from before that time, but who wants to take the risk?
The safest option is to choose Nike shoes that are made of synthetic materials and are from before 2015. Luckily, most of the shoes you see in shops and online are newer models. It's not unfair to assume they make new collections many many times yearly, so the old ones go out of stock fast.
Determine If Nike Shoes Are Vegan Overview
They need to be made of synthetic materials.
Avoid any amount of leather as it cannot be vegan.
Avoid labels as this: "Leather-And-Synthetic"
Only buy newer models from after 2015.
---
Conclusion
So finding a pair of vegan Nike shoes, sneakers, trainers, etc, is actually easier than you may think. It does depend a bit on where you buy them. I don't recommend that you buy shoes in regular stores because it's so hard to tell the vegan from the non-vegan.
And don't even think about asking the employees, as they most likely don't know. -Or even worse, just tell you what you want to hear. Luckily, Amazon is a great choice, as well as other webshops.
The most important things you need to avoid is this. Avoid buying Nike shoes from before 2015, as they may have non-vegan glue, and avoid buying anything with leather. Shoe brands have a tendency to brag about the use of leather, so they almost always say if it's the case.
However, you still need to make sure. Don't buy any products if you are not sure about the materials and cannot get a clear answer. Hope this article helped you out a little.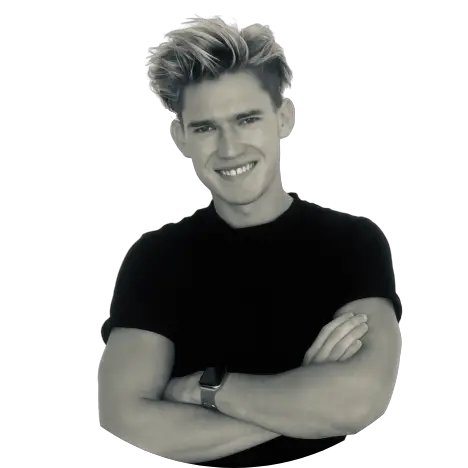 Hey, I'm Gus! I have been vegan for quite some years now, and have collected a lot of knowledge about the subject in this time. My goal with this blog is to spread the vegan message and make it easy to know exactly what's vegan and what's not.