Buying a pair of vegan crossfit shoes doesn't need to be difficult, you just need to know exactly what to look for.
Vegan crossfit shoes need to without any amount of leather and made of vegan glue. Luckily, almost all shoes use vegan glues nowadays, and so do the ones in this list. In addition, crossfit shoes need to have a tight fit, be flexible, durable, and offer some protection. The ones in this list are perfect for exactly that.
The list also has a pair of shoes are made especially for power lifting, which is a big part of crossfit. So they could be the obvious choice if you are mainly concerned with weight lifting, or want to improve it, alongside the other exercises.
---
5 Best Vegan Crossfit Shoes
---
Reebok Crossfit Nano 8.0
What's so speciel about these crossfit shoes is the upper part. As you can see the materials on the top form an 8, which works to add more stability and flexibility to the shoe. It essentially makes them sit tight on your feet, while also being strong.
So they don't start to tear, or anything like that. Making them a good choice if you do crossfit often, and intent to keep doing so. What's more is that the shape of the materials allow for greater breathability, which is immensely important in trainers.
You need your feet to be protected and sit tight, but breathability may actually be even more important. It keeps your feet cool, and makes sure you don't over sweat. -As a consequence, your feet won't get that smelly, and washing can be limited.
All of the materials are vegan as it's free from leather and Reebok use vegan glue.
---
Nobull training shoes
This may not be the most well known brand out there, but still make for quite a pair of vegan shoes. They can be used for many exercising purposes, such as climbing, running, crossfit, and so on. They may not be a crossfit exclusive shoe, but they still work for this purpose nevertheless.
The shoe is made partly with something called SuperFabric, which is then applied to a flexible mesh. What's good about that is that it works to protect your feet. An important aspect in terms of many exercises, in which crossfit is included.
More importantly, it means you can wear them for a run outside and have your feet protected by rocks, and other possible dangers. -And just to state the obvious one more time, this crossfit shoe is entirely vegan.
---
Reebok Crossfit Nano 4.0
This may be an older version of the previously mentioned vegan crossfit shoes, but they are still noteworthy, nevertheless. In addition to that, it may just be the sleekest pair of vegan crossfit shoes I know of. Just look at the details in that design.
As the design suggests, it's a highly durable, breathable, and flexible crossfit shoe. It sits tight around your feet and offers all the support you need during a workout. Besides, it's actually quite cheap considering the quality.
This may be due to the fact that newer models have emerged. Which is actually amazing, as the changes usually are pretty small, from older to newer models. Meaning you can have a pair of high quality crossfit shoes, for the lowest possible price.
I recommend that you take a look that the link above to see the current price.
---
PUMA Tazon Crossfit Trainers
Honestly, I was a bit surprised to find out that PUMA makes vegan crossfit shoes. Well, it's certainly not the brand I would expect to have them. Besides, these trainers don't look anything like a vegan product. It looks like leather, but of cause it's not.
It's 100% synthetic and almost all glues used nowadays are vegan. The shoe is made for crossfit, so it fits tight on your feet on offers some protection. In fact, this shoe may actually offer the most protection, but the breathability is definitely not the best.
If you are looking for a pair of shoes where your feet can really breath, you should take a look at the other options in this article. Or have a look at similar ones with a textile top, but keep in mind it needs have a tight fit. Something like the Reebok Crossfit Nano 8.0 is definitely the best option in this regard.
---
Adidas Powerlift Cross Trainer
A big part of crossfit is the weightlifting. There are many different movements and thus requirements for crossfit shoes, which is also what makes it difficult to find the right one. So if you are really into crossfit you may want to have different shoes for different exercises.
These are just amazing for weight lifting, also called powerlifting. It's a 100% vegan crossfit shoe that's specially designed for powerlifting. I know it looks like the upper material is made of leather, but it's actually a synthetic leather.
That's good because it's vegan, but synthetic leather is also more durable and flexible than the regular kind. So it's actually preferred over the real kinds, even by professionals. In fact, most training shoes these days use synthetic leather.
These are from the brand Adidas, and there are many vegan Adidas products out there. I wrote a guide how to pick vegan Adidas shoes. -Have a look if you want.
---
Are Crossfit Shoes Vegan?
Many crossfit shoes are entirely vegan due to the simple fact that vegan materials are best for trainers and clothing for exercise. That's because these materials offer more flexibility and breathability during a workout. This serves to give you a better workout and healthier feet in the long run.
While vegan materials are usually the case for trainers, it's not a given. Some brands use real leather because it's a branding strategy. Many people see leather as the best option for many clothing items. Simply because brands make them believe it means the quality is better.
That may have been true some years back, but definitely not anymore. Many brands make their own synthetic leather with more qualities than the regular kind, and the same is true for crossfit shoes.
Check out: Are Nike Shoes Vegan?
Thus most crossfit shoes are vegan, but you need to steer clear of any amount of leather. Even trace amounts are not considered vegan. Also, buy newer models as these almost exclusively use vegan glue.
Determine If Crossfit Shoes Are Vegan
So we need to know exactly what to look for when buying vegan crossfit shoes. For this purpose, I recommend buying online. It gives you all the information at your fingertips, which can otherwise be difficult to come by.
You can have a look at the official website for the brand, and see if the materials say anything about leather. Amazon is also good in this regard. That's because almost all shoes are listed as "synthetic", "leather", "textile", or something similar. This is great for vegans as it means you can see if there is leather, easily and fast.
If you are still not completely sure, then check the official website. However, if that doesn't give you a clear answer, it's safest to not buy them.
---
Conclusion
These are some good examples of vegan crossfit shoes, but there are many more out there. Have a look at some of the options from this page, and see if you like them. They are the best options that I have ever seen, but you may have other preferences.
Just make sure to double check every time you buy new shoes. Not only crossfit shoes, but all kind of shoes. They need to be without leather, and you can usually see the materials on the official websites.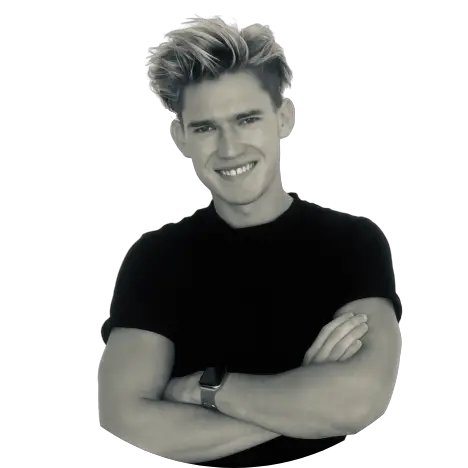 Hey, I'm Gus! I have been vegan for quite some years now, and have collected a lot of knowledge about the subject in this time. My goal with this blog is to spread the vegan message and make it easy to know exactly what's vegan and what's not.