This green smoothie with spinach, matcha, spearmint and other fruits and vegetables, is sure to get your day started.
It's an amazing breakfast smoothie that's full of healthy carbohydrates, vitamins and minerals. The matcha powder gives it a distinct green tea flavor, which in combination with the fresh spearmint, makes it a very uplifting smoothie.
Read more about all the benefits of this amazing plant-based vegan smoothie below, or scroll to the bottom for the recipe. Hint: this smoothie can be enjoyed, summer, winter, mornings and even evenings.
---
Smoothie That Energizes You
This smoothie contains many fruits and vegetables, which is important for giving you energy all throughout the day. One particularly good fruit for this matter is banana. They are loaded full of potassium, which keeps your hearth pumping and even lowers blood pressure.
Now, those are long term benefits, so what about the short term? Drinking this vegan smoothie with bananas is sure to give you energy. Bananas have a high amount of healthy carbohydrates and fiber. The balance of the two mean that energy is released more slowly throughout the day.
Thus giving you a balanced stream of energy, for a long period. Besides this means that you will be less prone to snacking later in the day. Simply because your body is satisfied and don't experience those energy spikes, as a bowl of Reese's Puff's give you.
---
Dates In Smoothies
Dates are not the most popular option for smoothies. The most popular ingredients for smoothies are mostly apples, bananas, and different berries, but I'll argue that dates are perfect for most smoothies.
That's because dates have some properties that cannot be found elsewhere. For one, they are extremely sweet, and give a lot of flavor. This is fantastic if you add only a few dates. Although, adding too many dates will surely make your smoothie too sweet. So be careful with your measurements.
But how can dates be healthy when they are so sweet? Well, dates have high amounts of sugar, as they are always dried. However, they also contain vast amounts of fiber, meaning you don't get those spikes in energy. On the contrary! Dates will slow down the breakdown of sugar, making you feel full and energized for longer.
---
Spinach Is Perfect For Smoothies
Spinach is maybe one of the most amazing ingredients for smoothies. The reason being that they are extremely healthy, while being low in calories. A cup of raw spinach has only 7 calories, which is practically nothing. So it's essentially not possible to overeat on spinach.
It may come as a surprise, but spinach actually has quite a lot of protein. Well, at least compared to it's low calorie content. One cup of spinach has just about 1 gram of protein, which is a lot in only 7 calories.
Moreover, the vitamins and mineral content is amazing. It's loaded full of of the most essential vitamins and minerals. -Giving you both short and long term benefits.
Probably the best thing about spinach, in regards to smoothies, is that it's delicious. There's definitely a reason spinach has become a standard for green smoothies.
---
Healthy Smoothie For Vegans
Many people add non-vegan ingredients to smoothies, such as protein powder. The reason it's often not vegan is because many use whey, which is derived from milk. Although this smoothie is suitable for both vegans and vegetarians.
Another non-vegan ingredient in smoothies is milk. However, it's actually quite easy to make smoothies without dairy products. It does add some creamy texture, but there are plenty of fruits and vegetables that can do the same.
Bananas and dates combine to give this smoothie and creamy and thick texture. So there's really no need to any dairy products in this, or any other smoothie.
---
Adding Protein Powder To Smoothie
It makes some sense to add protein powder to your smoothies, especially in the morning. It's always good to find new ways to introduce more protein to our diets. High protein diets are linked to healthy weight, and can help you build some muscle.
Now, adding a little protein to your smoothie won't make you are bodybuilder, but it does help your body function better.
This smoothie doesn't require protein powder, as it's already very healthy and should keep you satisfied. Although, you can certainty add some if you want. I recommend that you use any plant-based protein powder, as these are more humane and green.
Spinach Smoothie With Matcha And Spearmint
This smoothie combines the amazing flavors of spinach, matcha and spearmint. Matcha is a powder derived from tea leaves, giving the vegan smoothie a very distinct and flesh flavor. The smoothie also contains other green vegetables and super foods to energize you all throughout the day.
Ingredients  
2

bananas

2

handfuls of fresh spearmint

150

g

spinach

1/2

cucumber

1

tsp

matcha

1

tsp

vanilla powder

1

date

2

tbsp

hemp seeds
Instructions
Add all the ingredients to your blender

Add water so it covers 2/3 of the ingredients

Blend everything until it's creamy and liquid. This depends on your preference.
Did you like my recipe?
Share and mention @veganpeak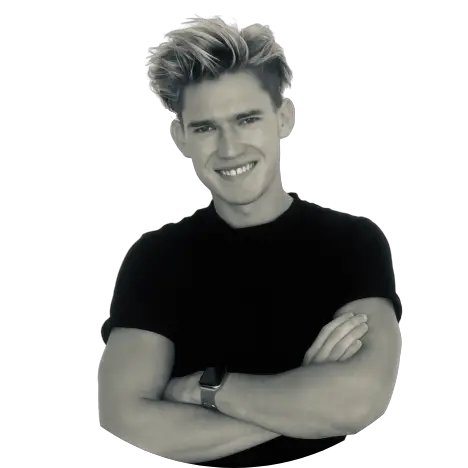 Hey, I'm Gus! I have been vegan for quite some years now, and have collected a lot of knowledge about the subject in this time. My goal with this blog is to spread the vegan message and make it easy to know exactly what's vegan and what's not.