You are probably wondering the same as me when I was first looking to get some chips after switching to a vegan diet, are pringles vegan?
Some Pringles chips are vegan while others are not. Sometimes they will have a label saying they are vegan, but that's not always the case. Some Pringles like Original and paprika flavored Pringles are vegan. However, some of the most popular varieties like sour cream and onion are not. There's a ton of different flavors, and Pringles keep expanding their selection. Meaning you need to have a look at the nutritional label to determine whether they are vegan or not. Look for anything related to meat or dairy. Many flavors include milk, buttermilk, or powdered milk. Make sure to steer away from these when on a vegan diet.
So, how can you determine if your favorite Pringles flavor is vegan? -And which flavors are vegan-friendly? That's what will be answered in this article, so read along.
Are Pringles Vegan or Vegetarian?
It can often be hard to determine whether or not a product is vegan or vegetarian. Especially when talking about something as artificial as Pringles chips. These kinds of products are most often made using many flavor enhancers and other ingredients that are entirely unknown to the consumer.
Many ingredients are even listed as numbers, that the average vegan has no way of knowing. These numbers are very commonly representative of some products made from animals. It might be something small like a particular type of fat-extract or similar.
Nevertheless, any trace of animal products makes it non-vegan, so it's essential to steer away from these. However, luckily, there are plenty of vegan Pringles flavors. Pringles have made it easy for the average vegan to determine if the taste is vegan or not. They do this using a label stating if it's vegan, vegetarian, or neither.
Determine if Pringles Are Vegan
Pringles have made it very easy for both vegans and vegetarians to adhere to the lifestyle. How do they do this? They use labels, so we don't have to read and understand every single ingredient.
That saves vegans and vegetarians a lot of time since knowing every single ingredient is tedious and almost impossible. Look for this label to determine if a Pringles flavor is vegan or not. In case none of the labels are listed, that means they are not vegan. Thus these should not be consumed by vegans.
Some Pringles flavors contain both labels, while others only have the vegetarian label. So be sure only to eat the products labeled with both a vegan and vegetarian mark. Otherwise, the product includes animal products such as dairy.
which pringles are vegan?
Feeling hungry for some Pringles and asked yourself which pringles are vegan? After looking through ingredient lists and labels of various Pringles flavors, I have made this list. In the following list, you can see the Pringles flavors that are labeled both vegan and vegetarian. These are all certified vegan by Pringles themselves, using their labeling system.
Pringles BBQ
Pringles Original
Pringles Smokey Spanish Style Paprika
Pringles Brazilian BBQ Flavour
Pringles Tortillas Original
Pringles Tortillas Zesty Salsa
Pringles Salt & Vinegar Flavour
Pringles Chicken Kebab Flavour
Pringles Cinnamon
These are the vegan flavors I found. Pringles add new flavors all the time, so please note that some new flavors might be vegan too.
Which pringles Are Vegetarian but not vegan?
There are also many flavors that are vegetarian but not vegan. These can be eaten by vegetarians but not vegans since they contain dairy. Many of these varieties contain either milk, buttermilk, or other dairy products. These can be consumed by vegetarians since they are free from actual meat.
Sour Cream and Onion
Pringles Roast Chicken Flavour
Pringles Peri Peri Flavour
Pringles Southern Fried Chicken Flavour
Pringles Sweet & Spicy BBQ Flavour
Again, there are many more vegetarian flavors out there. These are simply some of the most popular ones. Furthermore, note that all vegan Pringles chips are also vegetarian. So these can also be eaten by vegetarians.
Which Pringles are not vegan or vegetarian?
Quite a large number of the Pringles flavors are actually either vegan or vegetarian. But some flavors do contain small amounts of both meat and dairy, so these can't be consumed by either group.
Pringles BBQ Sausage & Onion Flavour
Pringles Chicken Salt Flavour
Pringles® Sweet Chilli & Sour Cream
Pringles Roast Chicken & Herbs
Ingredients In Pringles
These are the ingredients found in Pringles Original. The ingredients list does not contain either dairy or meat. Thus they can safely be consumed by both vegans and vegetarians.
Ingredients of Original Pringles
Dehydrated Potatoes, Vegetable Oils (Sunflower, Corn), Rice Flour, Wheat Starch, Corn Flour, Emulsifier (E471), Maltodextrin, Salt, Yeast Extract, Yeast Powder, Colour (Annatto)

Pringles Original
So, what about non-vegan Pringles? An example of non-vegan pringles is the Pringles Roast Chicken & Herbs as it contains both milk and animal fat. As you can see in the following ingredient list; both milk and chicken fat are present. This means that this specific flavor is a no-go for both vegans and vegetarians.
Ingredients of Roast Chicken and Herbs Pringles
Dehydrated Potatoes, Vegetable Oils (Sunflower, Corn), Rice Flour, Wheat Starch, Chicken & Herbs Seasoning [Whey Powder (Milk), Dextrose, Flavour Enhancer (Monosodium Glutamate), Yeast Extract, Flavourings, Onion Powder, Chicken Proteins, Garlic Powder, Chicken Fat, Herbs, Colour (Paprika Extract)], Emulsifier (E471), Maltodextrin, Salt.

Pringles Roast Chicken & Herbs
Always look at the Ingredients
Luckily the specific brand of Pringles has put effort into labeling their products. That alone means that Pringles is one of the more socially conscious chips brands out there, despite their use of some animal products.
These labels mean that you can safely assume that the products are what they say, but it's always recommended that you take a look at the ingredients yourself. Some vegans might have a more hardcore stance on certain products. Companies sometimes have a different opinion as to what's vegans and what's not. Some vegans will proclaim that palm oil is not vegan due to environmental concerns. While some companies might not even reflect that deeply.
Thus, I always recommended that you take a quick peek at the ingredients yourself. Make sure that the ingredients adhere to your beliefs because not all companies withhold the same notion.
---
Can Vegans Eat Pringles?
Yes, vegans can definitely eat Pringles. There are plenty of vegan Pringles flavors without any animal exploitation. But there more hardcore vegans might want to think twice before buying Pringles, as they are owned by Kellogg's. There have been some environmental issues with the practices of Kellogg's.
However, they have made some changes recently, focusing more on the environment. More sustainability initiates have been implemented in recent times. So, in my opinion, vegans can safely eat many Pringles flavors. At least the ones that contain no dairy or meat products.
are sour cream and onion pringles vegan?
No, sour cream and onion Pringles are not vegan since they contain dairy. Vegans are against any forms of animal exploiting, which milking is considered. Thus vegans need to avoid this particular Pringles Flavor. But vegetarians can safely eat this flavor because it has no meat products. Meaning no animal was killed in the process of making these chips.
are barbecue pringles vegan?
Yes, BBQ Pringles are surprisingly vegan. Which is excellent as many barbecue chips flavors are generally made using animal fats. However, this barbecue flavor is entirely vegan. It can be eaten by both vegans and vegetarians.
---
Conclusion
Many flavors of Pringles are vegan, but not all. So it's essential that you make sure that your favorite flavor is vegan before purchasing. Luckily, Pringles have put some effort into making the life of vegans easier. They do this using labels that determine if a flavor is either vegan, vegetarian, or neither. Look for the vegan or vegetarian label, if these are not present they cannot be eaten.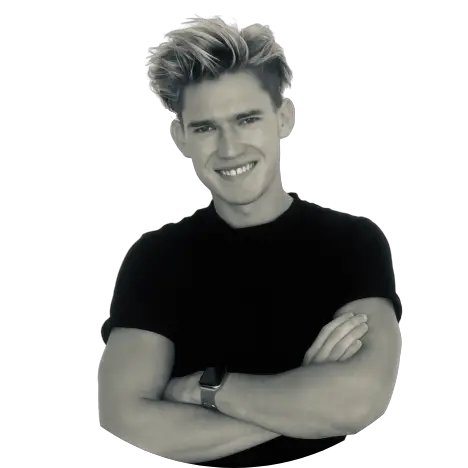 Hey, I'm Gus! I have been vegan for quite some years now, and have collected a lot of knowledge about the subject in this time. My goal with this blog is to spread the vegan message and make it easy to know exactly what's vegan and what's not.