Doritos Tortilla chips are made from corn but are Doritos gluten-free, vegetarian and vegan?
Doritos do have quite a few flavors made without gluten products. These are suitable for most people, but not all. In case you are celiac disease and are highly vulnerable to gluten, you need caution. Many flavors are free from wheat, rye, and barley. However, most Doritos are also made on the same production-lines as products with gluten. That means that those flavors have traces of gluten. Not dangerous for most, although some can get substantial stomach issues. In fact, Doritos only have one flavor that's 100% gluten-free. Opt for that one in case you vulnerable. The selection is also somewhat limited for both vegans and vegetarians.
Read along and learn which Doritos you can eat with a gluten intolerance. Are you vegan or vegetarian? See which Doritos are vegan and vegetarian. It might surprise you how few Doritos are vegan and vegetarian.
Are Doritos Gluten-Free
The process of making Doritos does not include gluten products, which means that Doritos are mostly free from wheat and rye. That leads one to believe they are gluten-free, although this is not the case. So how can Doritos contain gluten when they are neither wheat or rye?
Sadly, Frito-Lay makes most Doritos flavors on the same production-lines as gluten products. That's usually not a big problem since only 1% of the world is gluten intolerant. Nevertheless poses a substantial challenge for the remaining 1%. Most people who are gluten intolerant cannot have any trace of gluten without problems.
Thus, the production of Doritos can cause stomach upsets in these people. It's most likely not going to create as many issues as straight bread. But that depends on how bad your body reacts to gluten since some are less severe than others. Nevertheless, almost all Doritos contain some trace of gluten, although not much.
Gluten In Doritos
Many Doritos don't contain wheat, rye, barley, or oats. Meaning they are mostly gluten-free as they don't have gluten ingredients. These are most likely safe to eat for most people, although celiac sufferers need caution.
Doritos without gluten ingredients
The following list consists of Doritos flavors that are free from gluten ingredients:
Blaze™ Flavored Tortilla Chips
Cool Ranch® Flavored Tortilla Chips
Dinamita® Chile Limón Flavored Rolled Tortilla Chips
Flamas™ Flavored Tortilla Chips
Flamin' Hot® Nacho Flavored Tortilla Chips
Flavor Shots Fiery Habanero Triangles
Jacked™ Ranch Dipped Hot Wings Flavored Tortilla Chips
Nacho Cheese Flavored Tortilla Chips
Poppin' Jalapeño Flavored Tortilla Chips
Salsa Verde Flavored Tortilla Chips
Simply Organic Spicy White Cheddar Flavored Tortilla Chips
Spicy Nacho Flavored Tortilla Chips
Taco Flavored Tortilla Chips
Tapatio® Flavored Tortilla Chips
These are all virtually free from gluten products. -And you are most likely safe to eat some of these flavors. That being said, they are not 100% gluten-free and can cause issues. So I recommend that you avoid these to be completely safe. Opt for the entirely gluten-free flavors instead.
Gluten Free Doritos
Sadly enough, there are not many options for anyone suffering from celiac disease. It does depend on your intolerance, but generally, you should stick to the following list. Otherwise, it can potentially cause issues.
According to various vegan resources; Doritos did have a few options at one point. That's not the case anymore, as their entirely gluten-free options are now limited to one. So which Doritos flavor is gluten-free?
Simply Organic White Cheddar Flavored Tortilla Chips
That's the safest Doritos flavor in case you are vulnerable to gluten. This particular flavor is certified as 100% gluten-free though. Frito-Lay, the owners of Doritos, claim this on their website. So you can rest easy as this flavor is definitely safe. However, make sure to check their website regularly, as this can change in the future.
Are Doritos Vegetarian
Surprisingly, most Doritos flavors are not vegetarian. Most people know that Doritos have dairy, as most flavors are dairy related. That's true, but that's actually not the issue. Vegetarians can eat dairy, and thus products like Doritos considered vegetarian, although they are not.
Most Doritos flavorings contain animal enzymes. These are usually listed under "natural flavors" which is technically true. But it does mean that vegetarians cannot eat Doritos since animal enzymes come from an animal (Not surprisingly). However, some Doritos flavors are entirely vegetarian as they don't contain this animal enzyme flavoring.
Vegetarian Doritos
Only a select few Doritos flavors are vegetarian. So this is not an impressive list by any means. Especially since it has only one flavor on there. Nevertheless, here it is. The only vegetarian flavor I can find, despite asking employees and reading many ingredients lists.
Doritos Lightly Salted Tortilla Chips
Now, this is the case for US products. However, it seems that most, if not all, Doritos flavors in the UK are entirely vegetarian. You can see this by the vegetarian label they carry. So you can buy Doritos from the UK in case you are a vegetarian and need some Doritos in your life.
Are Doritos Vegan?
No, Doritos are not vegan. Almost all Doritos flavors have some amount of dairy which is not vegan. All dairy products require some use of animals, which vegans are firmly against. Milking is seen as animal exploitation, and thus Doritos that have dairy is not vegan. But there are some Doritos without dairy. One example of these is the Spicy Sweet Chili Doritos.
Corn, Vegetable Oil (Corn, Canola, and/or Sunflower Oil), Salt, Sugar, Monosodium Glutamate, Fructose, Sodium Diacetate, Soy Sauce (Soybean, Wheat, Salt), Onion Powder, Maltodextrin (Made from Corn), Hydrolyzed Soy Protein, Hydrolyzed Corn Protein, Garlic Powder, Torula Yeast, Malic Acid, Extractives of Paprika, Spices, Caramel Color, Disodium Inosinate, Disodium Guanylate, Dextrose, and Natural Flavor. 

Spicy Sweet Chili Flavored Tortilla Chips
This flavor is entirely free from dairy, which is apparent from the ingredients above. This might make many vegans think it's safe. But think again.
A conversation with a Frito-Lay employee revealed that the ingredient "Natural Flavor" is usually not vegan. That's because natural flavor in Doritos partly consists of animal enzymes. These are derived from animals, and so, are not vegan.
---
Conclusion
So there you have it. Doritos are mostly not gluten-free as they generally have traces of gluten. That being said, they are not made of gluten products, meaning some less intolerant people can eat them. It depends on how much gluten your body can handle. However, there's one flavor that's 100% gluten-free in all regards.
There are also quite a few vegetarian options, at least in the UK. These are all the pure flavors that without animal enzymes. Make sure that your favorite Doritos are free from the ingredients "Natural Flavors" to avoid this.
Vegans, on the other hand, cannot eat Doritos. After reading many ingredients lists, I found that none to few flavors are vegan. Although Doritos have an impressive selection that differs from countries. So there might be some vegan options out there. Although this is rare.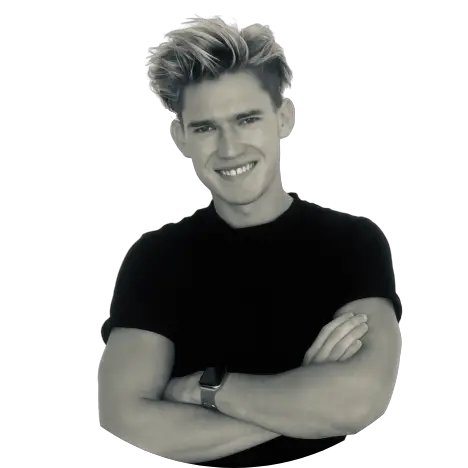 Hey, I'm Gus! I have been vegan for quite some years now, and have collected a lot of knowledge about the subject in this time. My goal with this blog is to spread the vegan message and make it easy to know exactly what's vegan and what's not.