Are you new to veganism or vegetarianism and think are Cheetos Vegan?
No, Cheetos are neither vegan or vegetarian. They are produced using animal enzymes. That's right, not only dairy is used in the process, but actual animal enzymes. This means that neither vegans or vegetarians can eat Cheetos. Vegans cannot consume Cheetos since they contain dairy products. While vegetarians cannot eat them as they contain animal parts. Vegans don't eat either eggs or dairy while vegetarians simply cannot eat meat. Thus none of these groups can have any Cheetos flavors, as they all contain both.
So vegans and vegetarians should not really consume any kind of Cheetos. This begs the question if there are any exceptions or to eat instead of Cheetos. Let's take a more in-depth look at the reasons vegans can't eat Cheetos and alternatives.
---
Why are Cheetos Not Vegan?
I have reached out to Frito-Lay asking if they have any lists of vegan or vegetarian Cheetos flavors. In addition to not having a list, they assured me that most products are neither vegan or vegetarian.
As you might imagine, most Cheetos products contain dairy. Not surprising as the name is a play on the word cheese. Although many products have a specific taste without actually including the mentioned product. However, Cheetos are one of the products that actually contain what they claim to be. Great for non-vegans, but rather annoying for a Cheetos loving vegan. Since this means that vegans cannot eat Cheetos.
As the conversation above shows, the majority of their snacks contain cheese and are not vegan. However, the answer did suggest that some products are at least vegetarian. Although I did some research afterward. This showed that most, if not all, products contain some amount of animal products.
All Cheetos Contain Dairy
All Cheetos varieties have some amount of dairy in them. It might not contain large amounts of dairy, but it's there. Sadly, this means that vegans cannot consume any Cheetos flavors, as they all contain dairy. These ingredients include milk, skim milk, buttermilk, and cheese.
Frito-Lay, the owners of Cheetos state this on their website. They have composed a list of dairy-free products in the selection. The list is most likely meant for people who are lactose intolerant. Nevertheless, it serves as an excellent list for vegans. Since it shows what products are dairy free and which are not. Which is important when adhering to a vegan diet. You can have a look at the list by clicking here.
As this list shows, there are many dairy-free products. However, no Cheetos products are present. That means that none of their Cheetos products can be consumed by vegans. Although vegetarians can safely eat dairy products and still adhere to their diet. This begs if the question if vegetarians can eat Cheetos.
Are Cheetos Vegetarian?
Vegetarians can eat most Cheetos flavors. In fact, only a very few of the Cheetos flavors seem to include animal products. As you can see from this list, Cheetos have many flavors without any pork enzymes. However, there are still some varieties vegetarians should avoid.
The following list are some Cheetos flavors vegetarians need to avoid.
Crunchy Cheese – Animal Rennet
Cheddar Jalapeno – Pork Enzymes
Flamin Hot Cheese – Pork Enzymes
These are just some of the flavors vegetarians cannot eat. Ingredients can change over time, and be different in other countries. Thus, I advise you to have a look at the ingredients list before indulging in any Cheetos. There might be many more kinds you should avoid. However, they are the ones I was able to determine as non-vegetarian. Take a look at the ingredients for yourself, to make sure you don't anciently consume meat-products.
---
Cheetos Ingredients Example
The following ingredients are what Cheetos Flamin' Hot Crunchy Cheese is made from. It's apparent from these that that particular flavor contains many dairy products, meaning they not vegan. These are made bold.
Enriched Corn Meal (Corn Meal, Ferrous Sulfate, Niacin, Thiamin Mononitrate, Riboflavin, and Folic Acid), Vegetable Oil (Corn, Canola, and/or Sunflower Oil), Flamin' Hot Seasoning (Maltodextrin [Made From Corn], Salt, Sugar, Monosodium Glutamate, Yeast Extract, Citric Acid, Artificial Color [Red 40 Lake, Yellow 6 Lake, Yellow 6, Yellow 5], Sunflower Oil, Cheddar Cheese [Milk, Cheese Cultures, Salt, Enzymes], Onion Powder, Whey, Whey Protein Concentrate, Garlic Powder, Natural Flavor, Buttermilk, Sodium Diacetate, Disodium Inosinate, Disodium Guanylate), and Salt. CONTAINS MILK INGREDIENTS.

Cheetos Flamin' Hot Crunchy Cheese
As mentioned before many Cheetos flavors are actually vegetarian. This is one example of Cheetos that are vegetarian but not vegan. The ingredients list shows that they contain many different dairy products, but no meat-products.
Are Flaming Hot Cheetos Vegan?
Unfortunately, Falmin' Hot Cheetos are not vegan. They contain many different dairy products that are not considered vegan. Non-vegan ingredients in Flamin' Hot Cheetos include; Whey, Whey Protein, Buttermilk. These are all dairy products that cannot be a part of the vegan diet. Thus Flamin' Hot Cheetos are not vegan and should not be consumed by vegans.
Additionally, some versions of this flavor could contain pork-enzymes. Although many kinds are enzyme-free, which means they are considered vegetarian. At least if no other animal parts are used.
---
Are There Any vegan Cheetos?
No, there are no vegan Cheetos flavors. After sifting through many Cheetos flavors, I fond that no there are no Cheetos suitable for vegans. All Cheetos contain some amount of dairy. That's bad news for vegans as they cannot eat any dairy products. Dairy products such as milk, cheese, and variations thereof, are a form of animal exploitation. Vegans need to avoid these products for adherence to their lifestyle.
---
Vegan Alternative to Cheetos
Switching to a vegan does not mean you cannot have some delicious snacks. Cheetos are loved for their cheesy taste, which might be a taste you miss on a vegan diet. Luckily, there are many vegan alternatives to cheesy snacks.
Vegan Rob's Cheddar Puffs is one of these cheesy vegan snacks.
Yes, this is an entirely vegan cheesy snack. You don't need to consume any animal products to get your cheese cravings fulfilled anymore. Try these if you are like me, and love cheese but without the animal exploitation.
---
Conclusion
Cheetos are generally not vegan, while many are vegetarian. However, it's essential that you do your own research by reading the ingredients list. Like many other chips brands, they continually expand the selection. -And even change recipes. Meaning it's necessary to check before buying a bag, as the ingredients can change.
There's also an upside to this. Many companies are appealing more and more to the vegan diet. Thus more vegan products are created every day. So, Cheetos might implement a vegan flavor sometime in the future. Meaning your favorite flavor might have a vegan alternative in the future. However, this is purely speculation.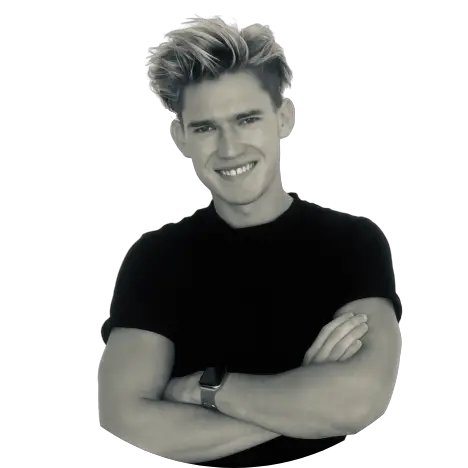 Hey, I'm Gus! I have been vegan for quite some years now, and have collected a lot of knowledge about the subject in this time. My goal with this blog is to spread the vegan message and make it easy to know exactly what's vegan and what's not.