Weightlifting belts are vital to add more strength and stability to your lifts, so here are 7 vegan weightlifting belts, even the pros use.
Heavy lifts put your body under a lot of abdominal pressure. So you must have a proper belt to alleviate some of that stress. A good weightlifting belt is proven to increase your lifts by up to 40%, and at the same time, reduce the risk of injury.
However, you don't want to buy weightlifting belts with animal products. Luckily, vegan weightlifting belts are just as good as the leather kinds, that so many use. Most vegan types use nylon, which offers a lot of support, but also comfort.
So using a vegan weightlifting belt for powerlifting, Crossfit, or other training is not a compromise. In fact, many top athletes opt for vegan options due to their comfort and functionality.
Vegan Weightlifting Belts
---
Bear KompleX 6 Strength Weightlifting Belt
Bear KompleX makes some of the most awesome fitness gear out there. In fact, I made a list of vegan hand grips. On there is an example of a pair of hand grips made of actual carbon. So you know this brand stands for quality.
The same goes for this Bear KompleX weightlifting belt. It's entirely vegan and is made primarily of nylon. Although the strength of nylon can be vastly different. This specific belt strengthened to give you maximum power for deadlifts, cleans, jerks, anything really.
Whether you are into hardcore powerlifting or Crossfit. This gives you the comfort and stability you need to add a few extra pounds.
---
Element 26 Self-Locking Weight Lifting Belt
Sale
The Element 26 weightlifting belt is made specifically for Crossfit athletes. That's also why the product uses 100% premium nylon. -Which is a 100% vegan material.
So you know this belt offers everything a crossfitter needs, as even athletes use it. It also fits all sizes as it's adjustable to infinity. Meaning it's suitable for both men and women.
It may be adjustable to infinity, but you don't want it to be too large either. Luckily, for us, there are many sizes to choose from. Choose the right size, because the belt comes with a lifetime warranty, so it may be the last vegan weightlifting belt you will buy.
---
Fire Team Fit Weightlifting Belt
The Fire Team weightlifting belt is one of those belts where you get what you pay for. A long-lasting, flexible, and comfortable weightlifting belt that supports your lift. Having a good vegan weightlifting belt is vital during those heavy lifts. -And this belt is sure to assist in just that.
The brand itself also supports a few charities. That's something I'm all about as it shows they fulfill their social responsibility. That's something all businesses should do to some extent. One dollar from each of their weightlifting belts sold goes to the Raider Project foundation.
It's an organization that aims to reintroduce veterans into society. An important cause that's highly needed today, more than ever.
---
Schiek Sports Weight Lifting Belt
Scheik Lifting belts have a patented form. In fact, the shape of these weightlifting belts is so good that it's been used in worldwide powerlifting competitions. It's even the preferred belt of Phil Health and Jay Cutler.
At least it was at some point. I'm not really sure what those bodybuilding champions use nowadays. Although it does prove the quality of this patent. Even the most celebrated athletes use them, so they are sure to suit you.
I encourage you to try this, at it's very different from other belts. The shape is proven to add more stability, which is also why it's proffered by athletes.
---
Harbinger 4-Inch Nylon Weightlifting Belt
One reason why vegan weightlifting belts are so vastly superior is due to the cost. Quality nylon, in contrast to leather, is much cheaper and comes with more functionality. It lasts longer, keeps looking good and it's cruelty-free.
This belt is from Harbinger, a brand that screams quality. A solid gauge steel buckle that, not only looks amazing but keeps your adjustment in place. You don't want your belt to readjust itself suddenly.
That's something that won't happen with a buckle like this one. The rest of the belt is made of nylon, which is both a comfortable and robust material.
---
Gymreapers Weightlifting Belt for Cross Training
Gymreapers is a US-owned brand made by athletes, for athletes. That's something you probably hear a lot, but it's true in this case. It's made by a group of athletes that wanted to create equipment that fits their exact needs.
In terms of the weightlifting belt, it has what you need. Made to give stability and prevent injury during heavy lifts, besides the brand itself is rather cool. The designs of their equipment is more creative than most others. -Take a look at some of their other gear if you want, but not all is vegan though.
This belt is vegan as it's made of nylon in contrast to the leather. -And they even offer a satisfaction guarantee, as well as a lifetime warranty. So you can always try it out and get your money back if you are not 100% satisfied with the product.
---
Valeo Low Profile Belt
Sale
The low profile belt from Valeo is sure to give you the stability you need for normal deadlifting, Crossfit, etc. Although, I'm not sure I would use this particular belt for the very heavy lifts. Mainly because it doesn't seem to add as much support as others.
However, it depends on your lifts. If you are like me and mainly use weightlifting belts to add support to medium-heavy lifts, it's good. It's a very comfortable belt. -And it's also a relatively inexpensive option.
That being said, you may want to opt for other options if you are into the professional or competition powerlifting.
---
What Makes A Good Vegan Weightlifting Belt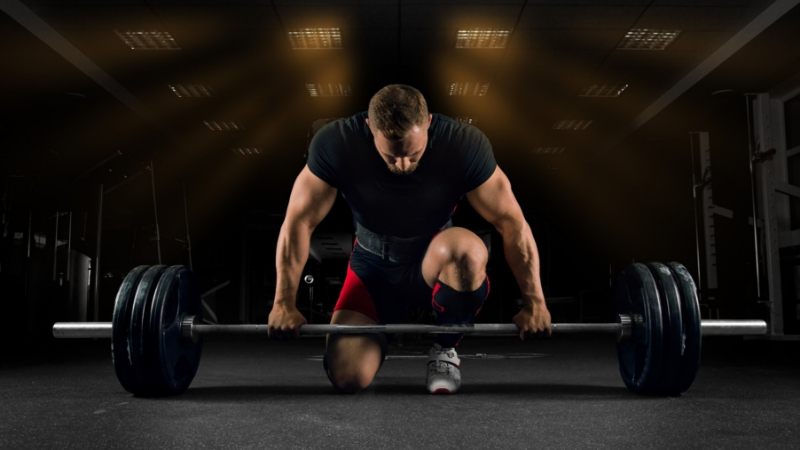 The reason we use weightlifting belts is to increase intra-abdominal pressure. This results in a rigid core that stabilizes your spine during heavy lifts. Not only does it ensure safety during your lift, but it also adds strength.
Stability is a crucial factor of weightlifting, Crossfit, powerlifting, and all other lifting exercises. It's a factor that many forget. -But it's one that can take your performance from mediocre to advanced.
A good weightlifting belt should be strong enough to assist you during heavy lifts. As you are only supposed to use them during these. The overuse of lifting belts can actually harm your core. So limit the use to heavy lift days.
It's also essential that you feel comfortable. It would be more than ironic if a product used to protect, instead gives more injury. So only use belts that are right for you and be sure to return it, in case it feels off.
Determine If A Weightlifting Belt Is Vegan
All you need to do is avoid leather. Lifting belts are rarely made from anything other than leather, in terms of non-vegan materials. Many believe leather to be the strongest and most professional of weightlifting belts, but that's not true.
As you can see in this list, many professional athletes opt for vegan options. Look for belts that are made solely of nylon. It's more durable, comfortable, and lightweight.
Choose 100% nylon products. That will ensure that you don't accidentally buy a product that has small amounts of animal materials, such as leather.
---
Conclusion
That was my list of the best vegan weightlifting belts. They can be used for anything within the weightlifting realm, such as Crossfit and powerlifting. Some of these are so amazing that even top athletes use them. So I would guess that it's good enough for you.
Give one of these a try, or find another one for yourself. Just make sure to avoid any belts that have leather. Even trace amounts cannot be considered vegan.